Myerscough Golden Roses 2017 – winners announced
Published

Thursday 30 Mar 2017
The winners of the 2017 Myerscough Golden Roses Teaching Awards have been unveiled.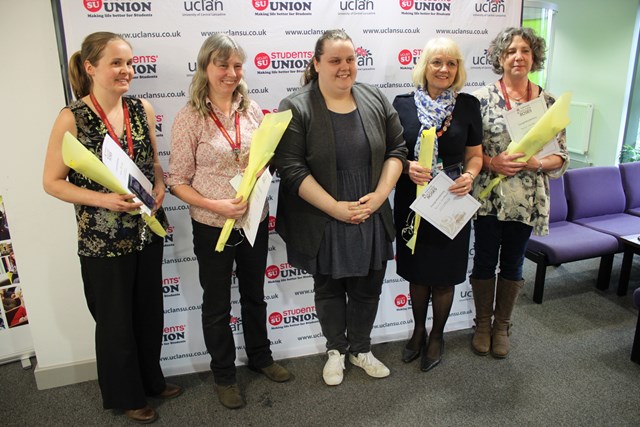 This was the fourth year Myerscough, in conjunction with UCLan Students' Union, have held an awards celebration to pay tribute to teaching and professional services staff across the institution.
The winners received a trophy & flowers during a ceremony attended by staff, students and representatives from UCLan.
The Myerscough Golden Roses are an annual student-led teaching awards held at Myerscough College in partnership with UCLan Students' Union. They allow all UCLan students at Myerscough College to recognise staff at the college for the vital role they play in both teaching and supporting students.
This year the award winners were:
Student Support of the Year
Ronnie Sandham (winner) –  Assistant Head of Motorsports and Mechanisation HE -   'recognised for her excellent work in student support, helping students with any issues and always opening the door for them. Ronnie has gone above and beyond in ensuring students are aware of the opportunities available to them and helping them to make industry contacts and it's clear she takes a real interest in their well-being as well as their outcomes.'
Also nominated:
Library staff team
Louise Bell - Senior Lecturer in Animal Studies - HE
Myerscough's Golden One
Helen Clarke (winner) –  Lecturer in Veterinary Nursing – 'recognised for providing excellent pastoral support, being patient when students are struggling sand making them feel more positive and motivated in their course. It is evident that she goes above and beyond making students feel special.'
Also nominated:
Jon Humfrey - Library and Learning Resources Manager
Lecturer of the Year
Emma Blundell (winner) – Lecturer in Animal Studies – 'recognised for her diversity in teaching methods, engaging different types of students with her practical approach to learning.  
Also nominated:
Julie Smith (highly commended) – Senior Lecturer in Arboriculture
Helen Mason, for UCLan Student's Union, said: ''The Golden Roses are a great way for students to recognise the impact that staff have on their experience and the important role they play in their teaching and support they give, day in, day out.
''Our working relationship with Myerscough is one of the strongest out of all of our partner institutions and we look forward to furthering this over the years ahead.
''Congratulations to all nominees and winners and thanks to the staff and students involved for their  support in putting the awards together.''
Ann Turner, Principal, said: ''There's no greater value than being valued by your students. The fact that they take the time show how much they recognise their efforts shows that.
''Thanks to everyone for their hard work in putting the event together.''
The photograph shows the winners of the 2017 Golden Roses.
Share this article
by Dave Salmon
DSalmon@myerscough.ac.uk
Back to news