Myerscough Foundation Learning Centre officially opened
Published

Thursday 2 Mar 2017
The High Sheriff of Lancashire was the guest of honour at the official opening of Myerscough College's state-of-the-art Foundation Learning Centre and General Education building.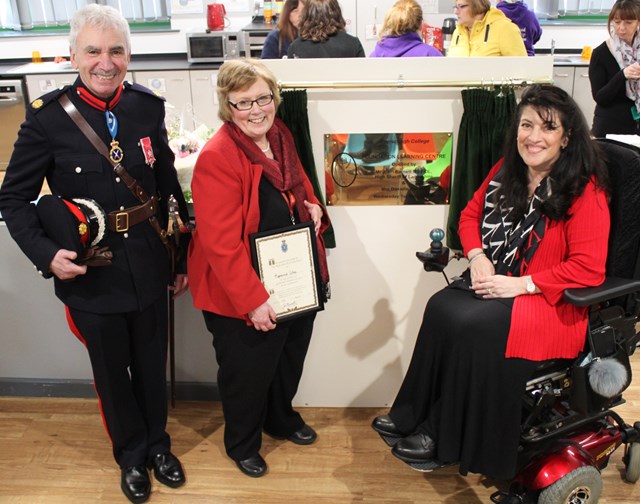 John Barnett MBE DL, accompanied by his wife, Danielle, were on hand to perform the honours on the impressive building, which is a key part of the College's multi-million pound capital investment programme of the Bilsborrow campus. It stands where the former greenhouse area was situated, between the Engineering Centre and the Plantworld Garden Centre.
The High Sheriff and his wife met with Myerscough Principal, Ann Turner, before visiting the classrooms and undertaking a tour of the facilities. There then followed a lunch before the party, led by foundation learning student, Bradley Padgett. playing bagpipes, conducted he formal opening ceremony and unveiled the plaque.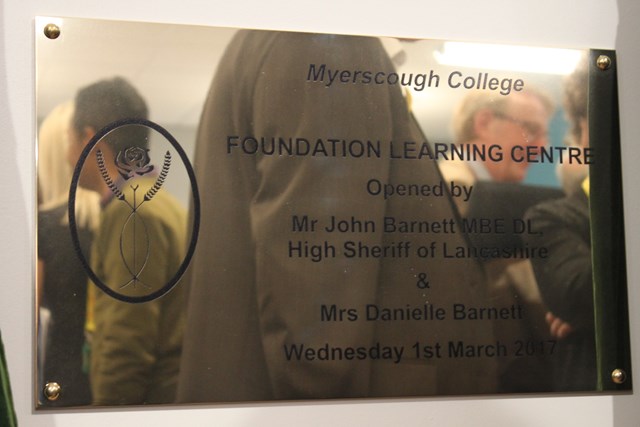 Ann Turner is Principal and Chief Executive of Myerscough College, said: ''It's an absolute pleasure to welcome John and Danielle formally to Myerscough. They are close friends of the College and share our values.
 ''So much fantastic work goes on in this department. Learners tackle new activities, accept new challenges and strive to achieve and exceed their goals, doing what they never thought possible when they originally enrolled at College.
 ''The transformation of students here is simply amazing and it really brings a tear to my eye to see the confident, friendly young people here today. Thanks to our partners in schools, local authorities, the College Governors and parents. Success is achieved by teamwork and it is with all your support and working together that we can all succeed.
 ''I must also recognise the staff team. To work with such a dedicated, hardworking and committed team who live and breathe the College is a privilege. A special thank you must go to our Foundation Learning team who have made this building a home, a centre of calm, of personal growth, of caring, and most of all, given it a heart.''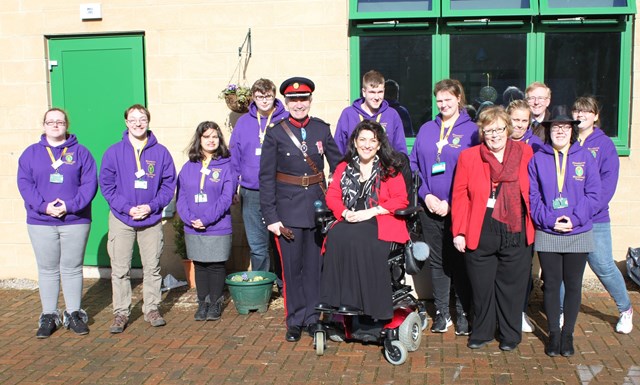 John Barnett MBE DL, High Sheriff of Lancashire, said: ''It has been a fantastic honour to see what Danielle and I have experienced here. You must all be extremely proud of all that you do and all who engage in this wonderful place.
 ''Lancashire is blessed with having such a fantastic organisation made up of people who are so committed. We were humbled by being able to be part of what we've seen here. It's a great honour to unveil the plaque and to have our name associated with your name is wonderful.''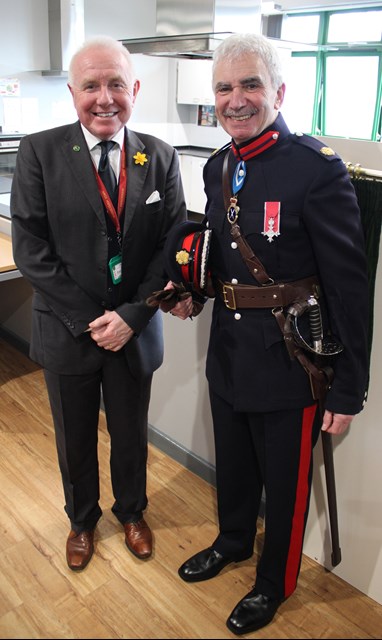 The High Sheriff also presented an award of his own to Myerscough College, with Ann Turner receiving a certificate of recognition of great and valuable services to the community. The award also recognises the appreciation of the residents and the people of the county for activities and contributions made by Myerscough to enhance the community.
 Casey Walsh, a Level 1 Sport student from Poulton, spoke on behalf of the students and said: ''Thanks to the High Sheriff and his wife for opening our building. We have enjoyed our time in the centre so far. It has been great to have modern facilities and rooms to call our own and the resources to help us learn.
''We hope you had a great time looking around our building and taking part in our opening ceremony.''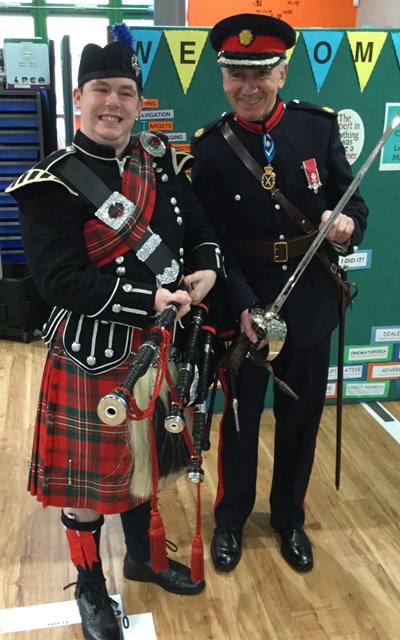 Barry Sherriff, Head of Foundation Learning, said: ''The centre furthers our reputation for giving our learners an opportunity to better themselves and the life skills they learn while with us enable them to move on into employment and independent living. It's great to see the progress of so many from when they first start with us.''
''Our new building makes the whole department much more joined up. It's a fantastic facility and environment for both staff and learners.''
The building serves two purposes. Primarily, the building is a specialist Foundation Learning Centre for students with learning difficulties to give them a dedicated central hub with facilities and resources just for them. The other part of the centre is an area to teach skills in general education.
The whole building is carbon neutral thanks to solar panels on the roof and the installation of a biomass boiler. The centre is a bespoke build to maximise the benefits to all users, including staff, students, parents and carers, who all had a major input into the design.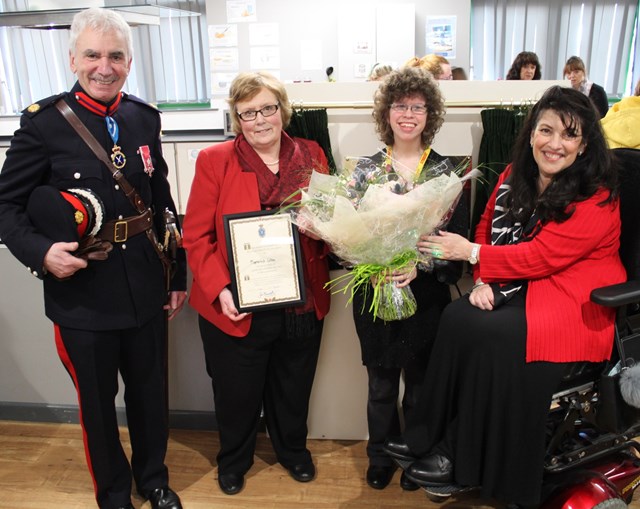 There have been a number of significant developments on the campus over the last few years, including a new Veterinary Nursing Centre, a revamped and extended Animal Studies Centre, and the completion of a modern, High Performance Centre for Sport.
The official opening of the Foundation Learning Centre comes as the department prepare to celebrate their success at the prestigious Red Rose Awards next week. Myerscough College Foundation Learning was named as a finalist in the category of Skills & Training Provider of the Year, and will be attending the award ceremony at Blackpool's Winter Gardens.
The photographs show the High Sheriff of Lancashire and his wife, Danielle, at the opening of the Myerscough College Foundation Learning & General Education Centre.
by Dave Salmon
DSalmon@myerscough.ac.uk
Back to news