Myerscough duo prepare for Worldskills landscaping final
Published

Monday 12 Nov 2018
Two Myerscough College apprentices are getting ready for the final of the 2018 Association of Professional Landscapers (APL) WorldSkills Landscape Gardening Competition later this week.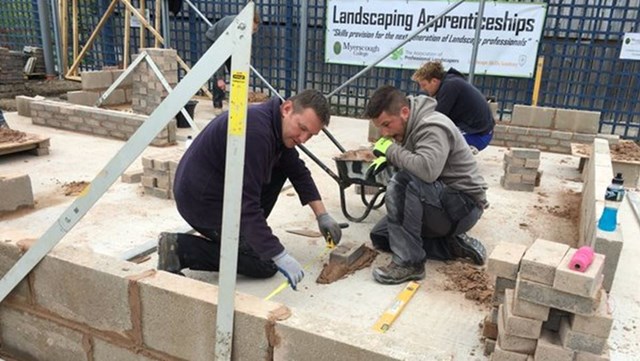 Sam Gordon and Matthew Wood both made it through their semi-final back in August, where they had to take part in industry led training sessions, alongside building test pieces to showcase their skills, focussing on the latest developments and innovations in the industry. They were given tasks to complete including paving, decking, walling and plant identification, procurement and working to a client's brief. The three day task was held at both Myerscough and J A Jones in Southport.
Sam, from The Gardenmakers in Warwickshire, and Matthew, from Helmrig in Preston, are now in a six-person national final, which will be held at WorldSkills UK Live (formerly The Skills Show), at the NEC Birmingham, from the 15 to 17th of November.
The eventual victor will be the UK's No.1 Young Landscaper– and could be eligible for selection to represent the nation at WorldSkills, the largest international skills competition, in Austria in 2020, and Shanghai in 2021.
WorldSkills UK Competitions, which are run in partnership with organisations from industry and education, are proven to help people go further, faster in their training and chosen career.
Dr Neil Bentley, Chief Executive, WorldSkills UK said: "I offer my congratulations to all the finalists.  Our competitions equip apprentices and students with the lifelong, world-class skills that will help boost UK productivity and competitiveness."
Mike Vickers, of J A Jones said of the competition: "J A Jones supports the APL WorldSkills competitions to help encourage the students to become the industry leaders of the future, by their education and inspiration through plants."
David Jessop, of Marshalls, said: "It is imperative that we encourage new blood into the landscape industry and WorldSkills is a fantastic platform for talented young landscapers to showcase their skills. Marshalls is delighted to support WorldSkills once again and we congratulate and look forward to a hotly contested final in November."
Nick Atkinson, Myerscough College's Assistant Head of Apprenticeships and Skills, said: "It was a great honour for Myerscough to host the semi-finals of such a prestigious competition and we are delighted Sam and Matthew have all represented the College extremely well so far.
''This is a competition we have done well in previous years, including winning gold in 2016 and a silver, bronze & a high commended last year.''
Lee Price, Employer Services Manager at Myerscough College, said: ''It's great to have Sam and Matthew in the finals this year.
''Congratulations to Nick (Atkinson) and (tutor) James Fare on some great work again. This is more testament to the fantastic APL Landscaping Apprenticeship and our partnership.''
by Dave Salmon
DSalmon@myerscough.ac.uk