Myerscough degree gives Sam a second chance of dream career
Published

Friday 11 Aug 2017
A Myerscough College student has been given a second chance to follow her dream career after graduating this summer.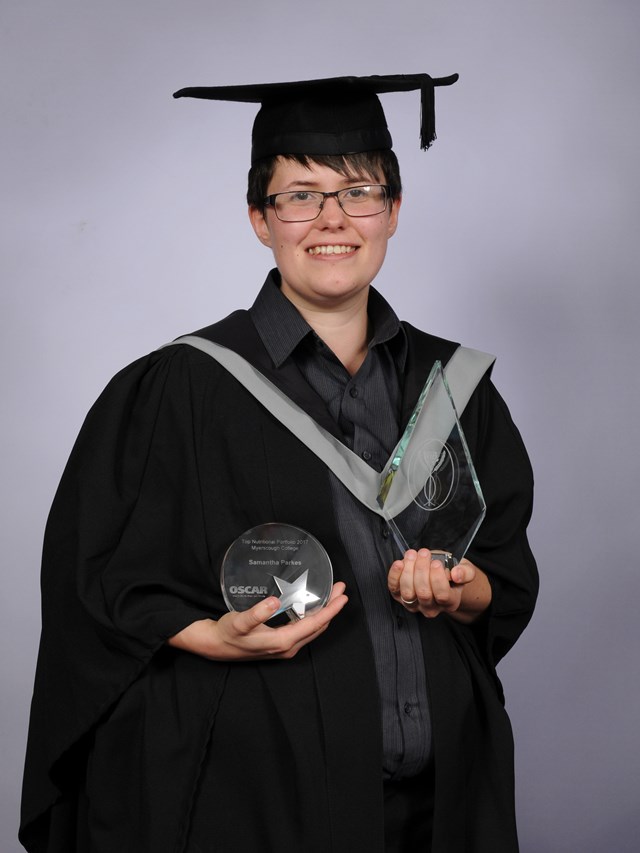 Sam Parkes completed a foundation degree in the Welfare of Animals after returning to higher education with Myerscough College. She originally studied for a degree in a totally different subject but soon realised she was going down a career path that wasn't for her and decided to retrain so she could work with animals.
Sam now has a full time position with Woodland Animal Sanctuary in Holmeswood, where she is responsible for the sanctuary's rehoming and sponsorship schemes.
Sam said: ''A few years ago I found myself at a crossroads and wondered what I was going to do with my life. I attended Myerscough's Open Day & Country Fair and when I saw the Animal Studies Centre I knew this was the one.
''I was delighted to be offered a place and I was excited to start. Working at the same time as studying, plus living an hour's drive away from campus was certainly a character building experience. For three years I split my time between study and work, as I wasn't eligible for any more student finance having already been in higher education.
''I've now completed my foundation degree. I've made many friends despite being the oldest in my class, and got through the course with the support of those friends and also my family.
''The enrichment opportunities Myerscough offers its students are great, and allow learners to grow both academically and as people. The tutors are great at passing on their expertise and seem to be able to support all students equally. Their advice and guidance is invaluable. Myerscough tutors are some of the most inspiring people I've ever known and their encouragement allows us to achieve more than we ever thought possible.
''Returning to education was the scariest thing I've ever done, but thanks to the opportunities that Myerscough have given to me, for the first time I can confidently see a career path where I know I'll be happy.
''My advice is do not be afraid to take risks, or push yourself out of your comfort zone. If you do, you will discover just what life has to offer.''
As well as completing her programme this summer, Sam was also named as a prize winner at her graduation ceremony, as she won the Oscar Pet Foods Award for Top Nutritional Portfolio.
Sam is now enjoying her new job, adding: ''It is the best job I have ever had!
''Working at a place like Woodlands has been my dream for as far back as I can remember, and after a lot of hard work and dedication I am finally exactly where I have always wanted to be.''
by Dave Salmon
DSalmon@myerscough.ac.uk
Back to news