Myerscough Dans are a cut above in Student Greenkeeper of the Year Awards
Published

Wednesday 19 Sep 2018
Two Myerscough College apprentices have been named the best student greenkeepers in the country after they both scooped a prestigious national industry award.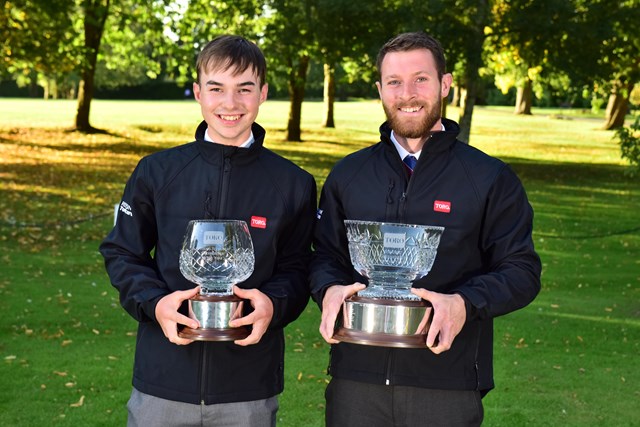 Daniel Ashelby has been named winner of the 2018 Toro Student Greenkeeper of the Year, while Danny Patten has won the Young Student Greenkeeper of the Year accolade. Both Daniel and Danny are studying an Advanced Apprenticeship in Work-based Horticulture (Sportsturf/Greenkeeping) with Myerscough College.
The Toro Student Greenkeeper of the Year Awards is a nationwide contest hosted by greenkeepers' association BIGGA and sponsored by turfcare machinery and irrigation manufacturer Toro, alongside its official UK distributor Reesink Turfcare. This is the 30th year of the Student Greenkeeper of the Year Award, while the Young Greenkeeper of the Year is in its third year.
Each year, a selection of the best student greenkeepers, selected from regional interviews hosted across the country, descend upon BIGGA House, at Aldwark Manor in York, for the two-day finals of the event, where they complete a variety of tasks.
Daniel Ashelby is assistant greenkeeper at Wilmslow Golf Club. Daniel was an ICL Scholar at BTME this year and visits golf courses in his spare time. A second-generation greenkeeper, whose father was course manager at Gatley Golf Club, he impressed the judges with his knowledge and passion for the profession. The presentation he delivered in front of the awards judges showed his dedication to greenkeeping and his eagerness to do well in his chosen career.
25-year-old Daniel said: "I can't believe I've won it to be honest. There was a really strong line-up and I couldn't tell right until the end who had won because everybody else was fantastic. I'm absolutely delighted and I'd like to thank Toro, Reesink Turfcare and BIGGA for everything they've done this week, it's amazing."
As part of his prize, Daniel wins a seven-week scholarship at the University of Massachusetts in the USA, as well as a trip to the GCSAA's Golf Industry Show in San Diego and a trip to Toro's headquarters in Minneapolis.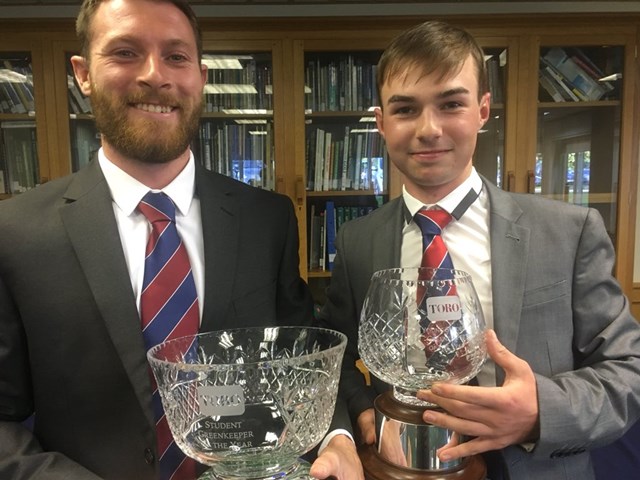 Meanwhile Danny Patten has been greenkeeping for nearly three years at Lee Park. He is a football coach in his spare time and wants to work abroad. The Toro Young Student Greenkeeper of the Year Award is open to students under the age of 20 and as winner, Danny receives a two-week work placement at the exclusive Vidauban Golf Club in France, as well as a trip to BTME in Harrogate.
20-year-old Danny said: "I'm shocked to have won. I thought I had done a good course walk but wasn't sure it would be enough. Then when they announced my name to say I had won it was just the best feeling in the world. I've been greenkeeping for just over two years so to get this award is really promising for my career and I'm looking forward to what the future holds."
There was even more recognition for Myerscough College, as runner-up in the Toro Student Greenkeeper of the Year Award was John Scurfield. 32-year-old John is also studying an Advanced Apprenticeship in Work-based Horticulture, while working at Morpeth Golf Club.
Myerscough learners dominated the finalists this year, accounting for five of the twelve people shortlisted. In addition to the success of Daniel, Danny and John, fellow apprentices Dan Dooley and Reece Tomalin were also named as finalists.
Myerscough College Employer Services Manager, Lee Price, said: "We deliver apprenticeships and work-based greenkeeping qualifications to learners across the country and it's amazing to see the progression and achievements of our students.
''We are extremely proud to be so well represented again in this year's finals. The future of the greenkeeping industry is clearly in safe hands and many congratulations to Daniel, Danny, John, and our other Myerscough apprentices who were shortlisted.''
BIGGA Head of Member Learning, Stuart Green, said: "Congratulations to Daniel and Danny, who showed outstanding passion and commitment, both during the finals of the awards and at every stage of the competition, to be crowned worthy winners of this year's awards.
"To be crowned Toro Student Greenkeeper of the Year isn't just two days' hard work; rather you must dedicate yourself to the greenkeeping profession every day of your working life and so both winners and everyone who made it to the finals should be incredibly proud of their achievements.
"Each year the finals of the competition get harder to judge, which gives me confidence that the future of the industry is in very safe hands."
David Cole, managing director of Reesink Turfcare and award judge, said: "Every year the challenge of selecting one winner from each category becomes greater and greater for the judges. This tells us that the greenkeeping baton is being passed to safe hands by virtue of the commitment we see in front of us from students towards their career and personal education.
"Congratulations, not only to the winners and runners-up, but also to the whole group in reaching the final in what is a very competitive awards competition. You are all a credit to yourselves and to your golf courses."
BIGGA Chief Executive Officer, Jim Croxton, said: "We call the Toro Student Greenkeeper of the Year Awards the most prestigious in the industry, but they are only made so by the commitment and dedication to the greenkeeping profession shown by those who have previously enjoyed success in the awards.
"Daniel and Danny join an incredible roster of past winners throughout the awards' prestigious history, each of whom has done their part in elevating standards in the greenkeeping profession to new heights.
"These annual awards remain a real highlight of the greenkeeping calendar."
The photograph shows Daniel Ashelby and Danny Patten with their Student Greenkeeper of the Year awards.
by Dave Salmon
DSalmon@myerscough.ac.uk