Myerscough College offer free recruitment service for seasonal staff
Published

Monday 21 Jan 2019
Myerscough College is offering employers within the North West the chance to be part of a new scheme giving unemployed adults the chance to apply for roles within the greenkeeping and sportsturf industries.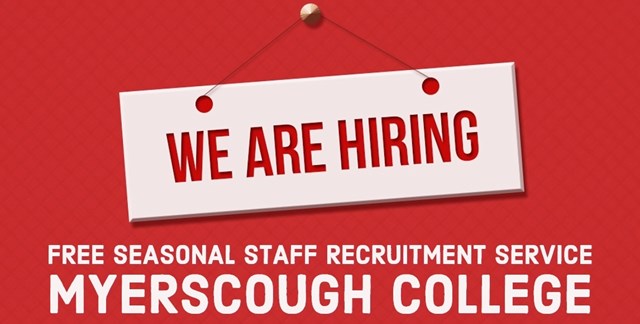 Working with job centres and other community organisations, the College will be running a series of pre-recruitment training courses giving attendees an insight into the industry along with some recognised qualifications in machinery safety and usage, roles and behaviours in the industry and health and safety at work.
The roles on offer would be mainly at entry level and can include Greenkeeping, Groundscare, Landscaping and Grounds Maintenance positions. Roles can be part time, full time or temporary to suit the needs of the business. Courses will be held at a range of locations across the North West relevant to the roles on offer.
This is a FREE service to employers. The only commitment will be the requirement to offer a real interview to those that fully complete the training course.
Come and see us now to find out more in the Blue Hall Stand 117 at BTME or contact Employer Services on 01995 642255 employerenquiries@myerscough.ac.uk or tweet us @MyShortCourse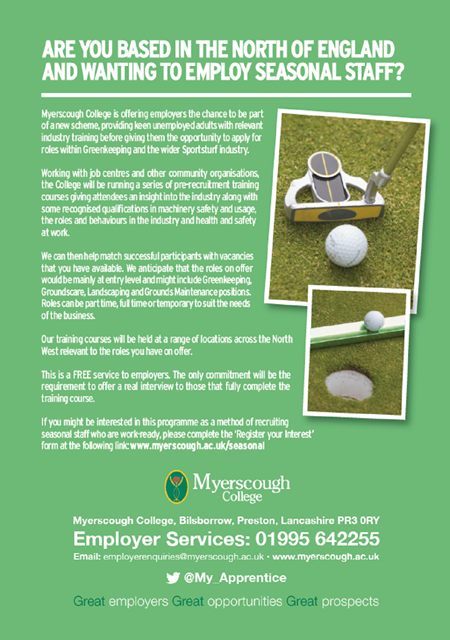 Error loading Partial View script (file: ~/Views/MacroPartials/InsertUmbracoForm.cshtml)
Share this article
by Dave Salmon
DSalmon@myerscough.ac.uk 
Back to news