Myerscough College backs Rural Powerhouse drive
Published

Tuesday 19 Nov 2019
Myerscough College is backing the Country Land and Business Association (CLA) Rural Powerhouse initiative.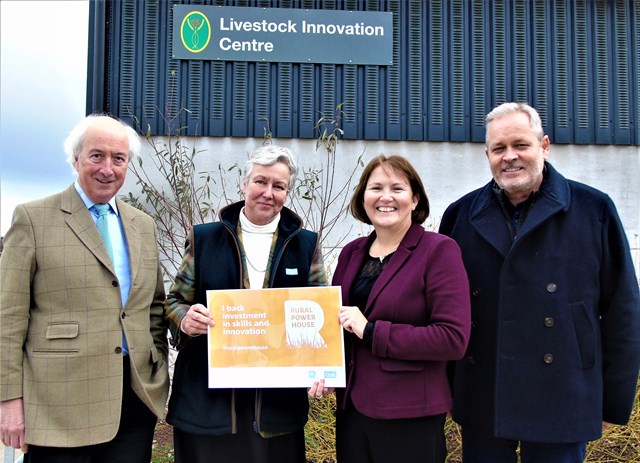 CLA Director North Dorothy discussed details of the initiative, specifically in relation to skills and innovation, with Alison Robinson, Chief Executive and Principal of Myerscough College and University Centre, at Myerscough's sector-leading Food & Farming Innovation and Technology Centre.
During the campaign, the CLA will write to every parliamentary candidate in every constituency in England and Wales asking them to pledge support for the Rural Powerhouse, and in addition to calling for investment in skills and innovation, the campaign also comprises four additional key themes: a fully connected countryside – both broadband and mobile; a planning system designed for rural communities; profitable and sustainable farming; and a simpler tax regime.
Lending her support to the CLA's initiative, Myerscough College and University Centre Chief Executive and Principal Alison Robinson said: "Our College has an excellent reputation both locally and nationally for our high quality teaching and resources in specialist land and animal based studies in tandem with our engagement with existing and prospective employers."
"However, our future, in part, is dependent on a government that pledges their support by investing in innovation and skills, and hence, we are on board with the CLA in calling for this from party political candidates."
CLA Director North Dorothy Fairburn said: "The CLA recognises the important role played by agri–educational institutions and research facilities as key enablers for the rural economy in keeping its workforce equipped for an increasingly technology-led sector." 
"The enhanced skills required for a modern and progressive agricultural sector is the basis for the CLA in calling for a future government to commit £200m a year investment in skills, innovation and advice to help the sector along on the road to fulfil its potential."
by Dave Salmon
DSalmon@myerscough.ac.uk 
Back to news