Myerscough College apprentice blazes a trail for greenkeeping
Published

Monday 3 Oct 2016
A Myerscough College learner has become the first trainee greenkeeper in the UK to be enrolled on a Level 2 Apprenticeship to the new 'trailblazer' standard.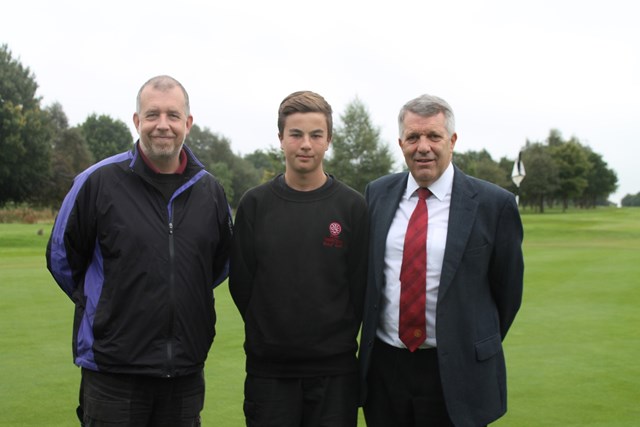 16-year-old Reece Tomalin will be undertaking the new City and Guilds Level 2 Certificate in Golf Greenkeeping, at Trentham Golf Club in Stoke-on-Trent. The new apprenticeship standard includes an assessment plan produced by 'trailblazers', who are employer-led groups developing the standards, to make the learner truly industry ready at the end of their training.
Myerscough College is the first training organization to use the new standard in greenkeeping.
Reece joined the team at Trentham straight from school, having undertaken GCSE's in the summer of 2016. He will now undertake a two-year apprenticeship, under the direction of highly experienced course manager, Ed Stant.
The club already has close links with Myerscough, with many of their team undertaking Level 2 and Level 3 programmes through the college, along with a range of short industry courses.
Ed Stant said: "Apprenticeships give us the opportunity to bring local young people into our industry and as a business we are proud to be able to facilitate this.
''Reece approached us in his final year and showed passion and enthusiasm for the role.
"He joins us at an exciting time as we are proud to be the first club to be able to offer the Apprenticeship against the new Golf Greenkeeper Standard which has been in development for some time. It's great to work with Myerscough to deliver a truly gold standard of apprenticeship and to give Reece a fantastic start to his greenkeeping career.
"Reece will receive regular visits in the workplace from his Myerscough College tutor and also have access to latest interactive learning technologies. For us the workplace delivery is key as it means we are able to plan and deliver the Apprenticeship with little disruption to our business."
 To celebrate this landmark enrolment, representatives from Myerscough were joined at Trentham by Roger Butler, Midlands Regional Administrator for BIGGA, the British and International Golf Greenkeepers Association.
Reece said: "I first approached Trentham Golf Club about an apprenticeship in January of this year. At the time I was too young and still at school. Then in March when I saw a role advertised I spoke to them again and was delighted to be able to work over the summer straight after my exams and I am really proud to now start my apprenticeship in greenkeeping."
"I have already learned loads, working with the team and just getting used to the world of work. It's great to think that I am the first apprentice on the new programme and I am really looking forward to developing in my role."
''School wasn't the best time for me and the apprenticeship means I can work outdoors, get a proper trade and qualification and also get paid at the same time. For me it's a win–win all round."
Roger was impressed by Reece's enthusiasm for the role and Reece has already submitted his BIGGA membership application: "It's clear that Reece has made an informed choice about embarking on a career in Greenkeeping. It's great to see young people who are passionate about our industry and I look forward to seeing Reece develop. Hopefully he can inspire other young people to consider a role in our fantastic industry."
The enrolment is also a first for City & Guilds as the golf greenkeeping qualification has been updated to reflect the changes and increased technical input into the apprenticeship standard.
Jamie Holland, End Point Assessment Manager at City & Guilds said: "This marks a significant milestone in apprenticeships and is the first of hopefully many registrations under the new Golf Greenkeeper Standard. We wish Reece the very best in his new career and look forward to tracking his progress in the industry."
Fiona Lyttle, Manager at the Greenkeepers Training Committee (GTC), said: "The greenkeeping industry has been at the forefront of dramatic changes to how apprenticeships in England are administered, thanks to the hard work of the Greenkeepers Training Committee.
"As one of the Government's 'Trailblazers', the GTC has worked closely with City & Guilds and partners England Golf and BIGGA and is proud to announce the launch the new Certificate in Golf Greenkeeping in England.
"The apprenticeship reforms are intended to engage with the employer more, to get them involved with education and ensure staff are trained to the highest possible standards. And the new certificate reflects these rising standards and builds upon the recently updated GTC-accredited training manual for greenkeepers."
"So much hard work has been involved in creating this new standard, and we are delighted to see Reece enrolled as the first apprentice on the new scheme with Myerscough College, who have played a key part in developing this standard."
Myerscough College are keen to speak to other employers and Apprentices who wish to discuss delivery against this new standard. For more information on this or any other programmes please contact Employer Services at Myerscough College on 01995642255 or email employerenquiries@myerscough.ac.uk
The photograph shows Ed Stant – Course Manager; Reece Tomalin – apprentice and Richard Minton – General Manager at Trentham Golf Club.
by Dave Salmon
DSalmon@myerscough.ac.uk