Myerscough basketballers advance to National 3×3 Finals
Published

Monday 11 Dec 2017
Myerscough College's Basketball Academy will play in both the men's and women's EABL 3x3 National Finals after finishing the regional qualifiers unbeaten in their respective groups.
The Elite Academy Basketball League National Finals take place on January 10th, in London. This year the regional qualifiers were held at Myerscough College's Pure Leisure High Performance Centre for Sport.
Myerscough swept through the qualifiers with a perfect record in both of their groups, both winning all four of their games. Myerscough's men opened with a 10-5 win against James Watt before beating Loreto 19-12. A 21-13 victory followed over Derby, before a 17-11 success against Allerton.
Myerscough's women went through the day unbeaten too as they saw off Loreto with 15-8 and 14-9 victories, while also beating Nottingham twice with 16-12 and 12-10 triumphs.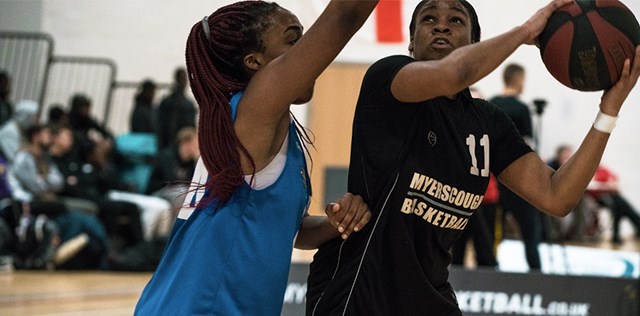 Myerscough basketball student, Mate Okros, said: "I really enjoyed playing that type of format, especially playing it here at Myerscough and having the support from all the Academy. We talked about having fun and expecting from ourselves to get through the finals, but we just wanted to enjoy it."
Fellow Myerscough student, Shauna Harrison, said: "It was different being a position where we are coaching ourselves. It is our decision - it's what we think we should be doing in certain situations and that helps us improve as players."
Myerscough Head Coach, Neal Hopkins, said: "The 3×3 qualifiers are something we have been looking forward to and the day was certainly no disappointment. Both our boys and girls team were able to go undefeated against some excellent opposition and played some great basketball in the process. We can't wait for the next stage."
3 on 3 basketball is a simplified version of its 5 on 5 big brother. Unlike regular basketball, matches are played on a half court with one basket instead of two. The game is a single period of ten minutes with the winner being the first team to score 21 or the team with the highest score at the end of the game.
Myerscough College's basketballers are no strangers to the format, after they reached the final of the FIBA 3x3 World Schools Championships in Tallinn, Estonia, in 2016.
Share this article
by Dave Salmon
DSalmon@myerscough.ac.uk
Back to news