Myerscough Arboriculture climb height of Everest for charity
Published

Thursday 16 Jun 2016
Myerscough College's arboriculture staff and students have raised £3,000 for Macmillan Cancer Support by climbing the height of Mount Everest.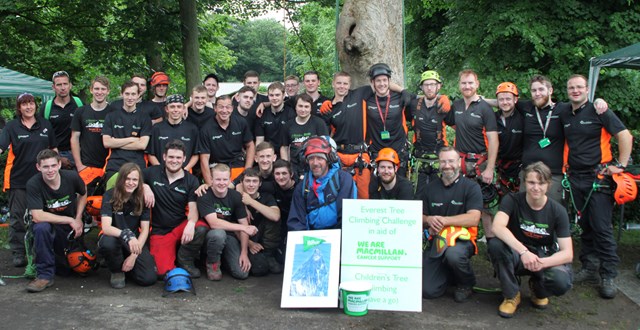 The fundraiser took place during the College's Open Day & Country Fair last weekend, and saw the 40-strong group using a tree on campus to 'conquer Mount Everest' by climbing a total of just over 29,000 feet, or almost 8,850 metres, with some members of the team will have to going up and down the tree up to forty times each during the event.
Arboriculture Lecturer, Bruce James, organised the fundraiser and says: ''We're proud to be supporting Macmillan Cancer Support.
''It was an awesome effort by all who took part, especially the youngsters without who's help we'd never have competed the climb. We've achieved and exceeded our goal. Special thanks to all who supported our endeavour.
''We did this as one of our 2nd year students has unfortunately just been diagnosed with cancer and has recently married and had a baby girl, with every intention of setting up his own tree care company when fully qualified.
''He has said that rather than raise money for him and his young family, he'd like any donations made to go to Macmillan, who are supporting him through his chemotherapy and care.
''This was no easy feat, and if anyone could donate anything they could to support the team taking part, as well as raising money for a great cause, it would be greatly appreciated.''
The photograph shows the team at the end of their successful climb.
by Dave Salmon
DSalmon@myerscough.ac.uk
Back to news