Merseyside provision expansion plans continue
Published

Wednesday 18 Oct 2017
Work continues to further expand Myerscough College's learning provision in Merseyside, as part of a multi-million pound scheme to revamp Bowring Park.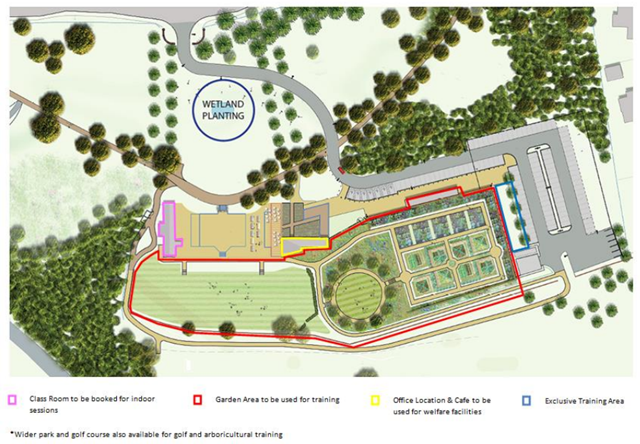 Students are now being recruited to the new campus in Huyton, which is due to open in September 2019.
Bowring Park is currently a municipal golf course owned by the Bowring Park Trust. The Park provides access to the public and also plays host to a number of community and golfing events of varying sizes throughout the year and private functions. The site comprises the golf course, plus a public park, which includes open parkland with veteran trees, play pathfinder area, formal historic gardens and a series of outbuildings and estate buildings that now form the Community and Visitor Centre, Golf Shop and Clubroom.
In February 2016, an application was made to the Heritage Lottery Fund 'Parks for People' programme to secure just under £2 million investment for the Park to restore its heritage features and re -develop the site as a public park to reinvigorate its benefit to the local area and additionally support the viability of the golf course through the restoration of its heritage assets.
As part of this programme Myerscough College has entered a collaborative partnership with Knowsley Council and Mack Trading Ltd to support the delivery of formal training and work-based learning within Bowring Park and the Golf Course. Myerscough College will locate a permanent learning centre on the site, for the delivery of learning and skills to local young people in the specific vocational areas of horticulture, arboriculture, sportsturf, golf and Foundation Learning. Delivery will include courses ranging from entry level to Level 3, which will be delivered as full time, part time or workplace learning programmes.
In addition to training courses, Myerscough College will also facilitate the recruitment of apprentices to be employed by Mack Trading Ltd and Knowsley Council to support grounds maintenance work, including horticulture and greenkeeping/golf course management, plus any other opportunities that may arise. The site is very well served by buses and trains and is only a short drive from the College's Croxteth campus, which will allow for some shared staffing and delivery on aspects such as English, maths, horticulture and student support.
Helen Eaton, Myerscough College Assistant Principal - Liverpool, said: ''Our involvement will be to establish Bowring Park as a Myerscough College Centre offering a range of programmes to local learners.
 ''This is a fantastic opportunity for the College to work with Knowsley Council and Mack Golf - it'll really enhance the offer for young people in Knowsley whilst complimenting the provision at our Croxteth Centre.''
Cllr Graham Morgan, Knowsley Council's Cabinet Member for Neighbourhoods, said: "Bowring Park has a wealth of historic features, including buildings, trees and gardens, but these need investment to preserve the park for future generations and enable it to attract local residents and visitors from further afield.
"Bowring Park is an important, historical landmark in Knowsley, so we are delighted to have been awarded this funding which will help us restore and protect the park for many generations to come."
Myerscough already has a strong presence in Merseyside and offer animal care, equine and greenspace courses at Croxteth Park, with plans well underway for a £3.5 million redevelopment of the site.
For more information about the courses available at Bowring Park and to apply online follow the links below:
Level 3 Edexcel Diploma Suite Golf Studies
by Dave Salmon
DSalmon@myerscough.ac.uk