Local MP Ben Wallace visits Myerscough College
Published

Thursday 14 Mar 2019
Apprentices and work-based learning staff got the chance to meet local MP, the Rt Hon Ben Wallace, on a recent visit to Myerscough College.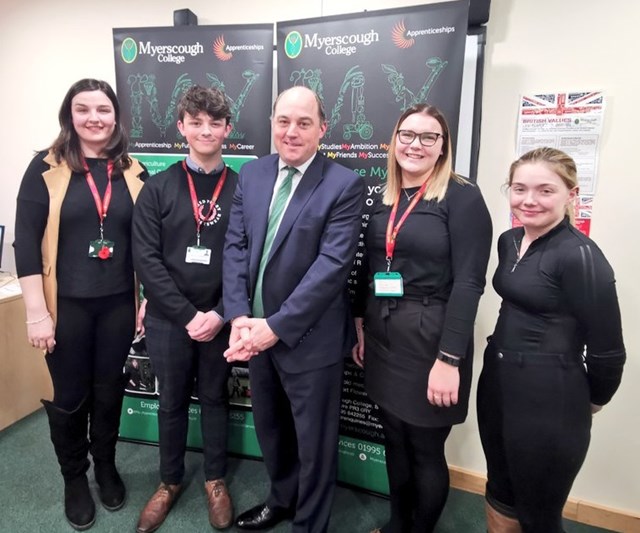 The Member of Parliament for Wyre and Preston North was invited to Myerscough to meet staff and learners, and to find out more about the key role that apprenticeships play in the land-based sector.
Mr Wallace was given a guided tour of the College's equine facilities, where he met equine apprentices, before chairing a lively discussion on the subject, attended by senior apprenticeship staff, Myerscough's Chief Executive and Principal, and other invited guests, including three apprentices currently employed by Myerscough in Employer and Corporate Services.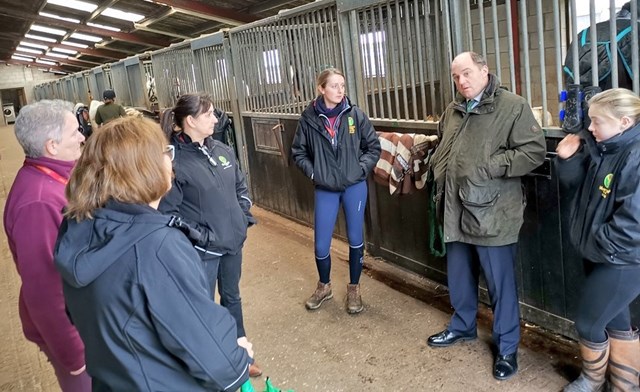 He learned about the breadth of Myerscough's offer, with more than 1,300 learners currently on a programme, and the importance of what the College provide to key sectors within the land-based industry. He also chatted with key staff about topics including the processes apprentices go through, through to how the apprenticeship levy works, and how the pressures both staff and learners face in achieving the standards required.
Myerscough's apprentices also got the opportunity for a 'Q&A' session with Mr Wallace, where he fielded questions on subjects including his career, his general views on apprenticeships and where they sit in the economy, and what apprenticeship he might have been interested in if he was younger.
The learners discovered that Mr Wallace had a wide ranging career, including time as a ski instructor and ten years serving in the army, before entering politics, where he currently holds the important position of Security Minister.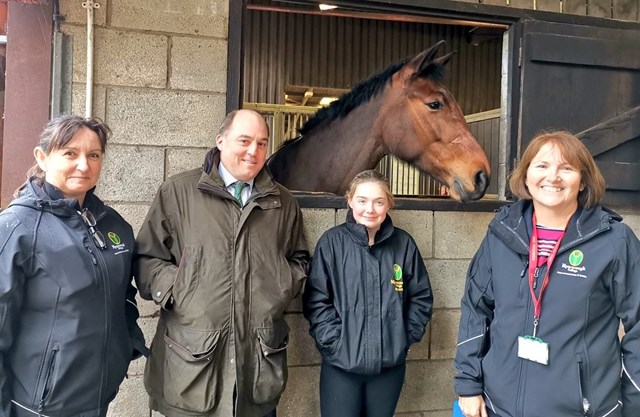 The Rt Hon Ben Wallace MP, said: ''Many people want to work and prefer that to continuing academic study. Personally, I couldn't wait to get into the workforce!
''Land-based industries aren't immune to technology and its demands and it's important that the workforce in these sectors are taught the digital skills they need as well as the practical ones.
''The work-based learning offer has to relevant and not watered down. It has to be mutually beneficial with a genuine prospect of work at the end. Employers can't just tick a box, as that dilutes the reputation of the programmes. Quality learning is everything and it's clear that it's attractive for employers to invest in apprenticeships, to give them the best chance of retaining staff in the long-term.
''In the future, being able to innovate will be more important than ever. The world is changing and it's about being open to change. The land-based sector is a multi-billion pound industry and will play a vital role in our economy in the future.''
The main photograph shows Ben Wallace MP with Myerscough work-based learning staff and apprentices including Marcus Henderson, Georgia Marsh, and Kathryn Yates, and equine apprentice Avia Giansoldati.
by Dave Salmon
DSalmon@myerscough.ac.uk 
Back to news