Introducing….our High Performance Centre for Sport
Published

Friday 27 May 2016
The latest phase of the multi-million pound revamp of Myerscough College's Bilsborrow campus has been concluded with the completion of a new High Performance Centre for Sport.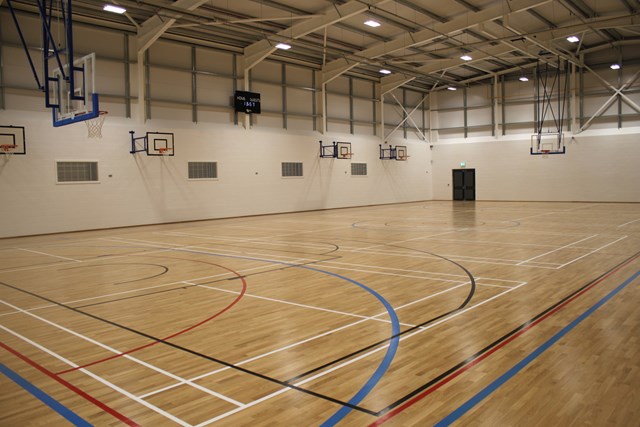 The state-of-the-art facility, costing £3.2 million, will compliment the College's current Sports Centre, which was built in the 1990s. The works comprised of the demolition and removal of an existing Sportsturf centre and workshop, as well as the demolition of a derelict, disused pavilion, to make way for the erection of the new build, which includes a purpose-built hall as well as a Strength & Conditioning suite and offices, and a seperate new Sportsturf Management facility.
John Wherry, Deputy Principal Resources, Myerscough College, says: "It's an exciting time for the College and the High Performance Centre will meet the changing educational needs of our students.
''The new complex includes state of the art facilities which will allow for us to continue developing our students to their full potential."
 Local contractors, Carefoot PLC, were responsible for the construction of the impressive new building that has been constructed in keeping with the modern Engineering, Rural Skills, Veterinary Nursing and Foundation Learning buildings that have been completed on the site of the college's main Bilsborrow campus over the last few years.
The new building will operate alongside the current centre and has already begun being used by staff and students.
The finished building enhances Myerscough's existing very strong sporting connections. The main hall is larger than the one in the college's current centre, enabling matches, including basketball, to be played at a much more elite level. Futsal, cricket, rugby and netball will be among the other sports involved in the new centre.
Chief Exec and Principal of Myerscough College, Ann Turner, explains: ''Exciting times are ahead. This is a further multi-million pound investment into the ongoing redevelopment of the campus.
''This is another building that we can be proud of and I know the subject areas that will utilise the new facility can't wait to get started. It's fantastic that we have another new building that will significantly benefit both our students and the public.''
The build comes on the back of the recent completion of the College's new Foundation Learning Centre and the redevelopment of the Animal Studies Centre, with further projects including the building of a brand new accommodation block for students in the pipeline.
Share this article
by Dave Salmon
DSalmon@myerscough.ac.uk
Back to news