Horticulture students bloom with English Lakes Hotels partnership
Published

Friday 16 Nov 2018
A Lake District hotel chain has tapped into the expertise of Myerscough College horticulture students.
Green-fingered Level 1 and 2 students at Myerscough's Preston campus have been working on landscaping the grounds of the Low Wood Bay Resort & Spa, following its recent multi-million pound extension and refurbishment. The partnership with Myerscough also includes the other English Lakes Hotels properties in the Lake District – The Waterhead at Ambleside and The Wild Boar near Windermere.
The project has seen the students in charge of managing content for the seasonal planting of outdoor tubs and baskets for each venue, to ensure that the hotel grounds will be awash with colour next spring.
Kate Lynch, Lecturer in Horticulture at Myerscough College, said: ''Well done to our horticulture students, who have worked with our staff to create winter containers for English Lakes. They have produced beautiful work.
''The winter containers are supplied by our Plant World garden centre, and are part of a new contract (with the company). Plants used include Hellebores (winter roses), Erica (heathers), Viola, Dianthus (Sweet William), and a range of ivy plants to name a few.
''The students helped to plant up the troughs and hanging baskets as part of a horticulture courses module, in which they have to learn about seasonal plants appropriate for outdoor planters, and winter is the theme for this one. 
''We have now been invited back to plant up the summer baskets and troughs.''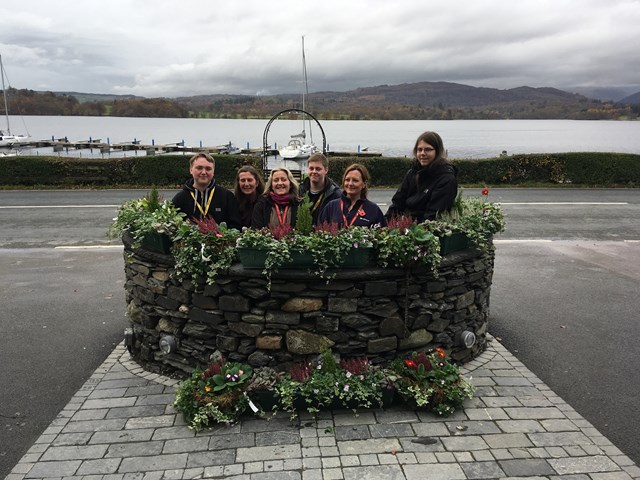 Paul Bell from English Lakes Hotels Resorts & Venues, is the maintenance manager at Low Wood Bay, and said: "Myerscough College has a really strong reputation for its horticulture courses and we wanted to give some of their students the opportunity to apply their practical skills to a live commercial project.
"Horticulture is a rapidly growing business due to strong public interest in gardening, plants, sustainability and food security.  And we want the grounds and landscaping around the hotel to match the quality of the venue's new facilities.  We are very grateful to Myerscough College for participating in the project and our thanks are due to the students who got involved."
The photographs show Myerscough horticulture students Zeph Nettleton, Oliver Brunton and CJ Jones, with Jenny Barr (Horticulture staff), Tris Melia (Horticultural Practical Facilities Manager) & Kate Lynch (Lecturer in Horticulture) at Low Wood Bay Resort & Spa.
For details of the range of horticulture study programmes available at Myerscough College and University Centre, CLICK HERE
Share this article
by Dave Salmon
DSalmon@myerscough.ac.uk
Back to news