Horticulture apprentice wins scholarship
Published

Tuesday 19 Mar 2019
A Myerscough College apprentice has been awarded a scholarship to continue in his chosen career path of horticulture.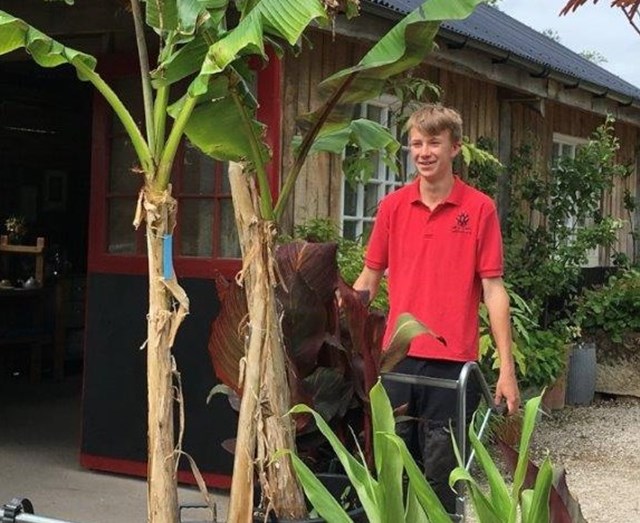 Cody Smith has been given a four figure sum by the David Colegrave Foundation, a charity who support the development of the ornamental horticultural industry in the UK by offering scholarships to those who are set on a career in the profession.
17-year-old Cody is currently undertaking an intermediate Work-Based Apprenticeship in Horticulture with Myerscough, while working at Abi and Toms Garden Plants, a plant and tree nursery in Witherslack, Cumbria. He is particularly interested in growing for commercial nurseries.
Cody said: "I am absolutely delighted to have been chosen for the DCF Student Scholarship. This is going to make a tremendous difference to my studies and future garden designing as I will now be able to have the technology and resources to help me do so. I really am truly grateful to be given this scholarship."
In total, scholarships worth £13,000 have been awarded to 10 students with interests that include research, sustainability, crop management, breeding, horticultural therapy and commercial wholesale.
Jeff Colegrave comments: "This year we received a record number of applications from horticultural students studying at 22 colleges across the UK. We believe we have selected some excellent candidates who are very worthy recipients of the David Colegrave Foundation Scholarships."
The David Colegrave Foundation (DCF) is a registered charity supporting the development of students studying horticulture in the UK. It champion careers in commercial, production or retail ornamental horticulture by offering scholarships to these future horticulturists. To date, over £100,000 has been awarded.
David Colegrave was one of Britain's leading seedsmen, founding the UK's largest ornamental seed company, Colegrave Seeds (now Ball Colegrave). During his career, Colegrave took a keen interest in supporting and promoting the development of young people, and it was with this in mind that the Foundation was launched shortly after his death.
The David Colegrave Foundation is administered by the Horticultural Trades Association.
More information on DCF can be found at www.davidcolegravefoundation.org.uk 
by Dave Salmon
DSalmon@myerscough.ac.uk