Hedgelaying competition once again a success
Published

Wednesday 14 Dec 2016
The annual Wyre & Myerscough Hedgelaying competition was once again a big success last weekend.
The event, which forms part of the Lancashire and Westmorland Hedgelaying Association's Grand Prix of competitions, was held at Horse Park Lane in Pilling. The standard of hedgelaying as always was very high and the judges had a tough job deciding the winners of each class, from the twenty competitors who took part.
Head of Agriculture & Countryside at Myerscough College, Craig Thompson, said: ''Hedgelaying is a sustainable hedgerow management practice and ensures the hedgerow remains stockproof whilst offering shelter from wind and rain and maximising biodiversity benefit. It also significantly prolongs the life of the hedge.
''Many thanks go to the organisers and volunteers, Wyre Borough Council and Myerscough College as well as the other judges and organisers.''
The event provided a great opportunity for people to get involved in high quality sustainable hedgerow management and it was also a superb networking opportunity with farmers, hedgelaying contractors and countryside officers there demonstrating and competing in this ancient craft in the Lancashire and Westmorland style. There were also 'have a go' workshops for the public to try the craft.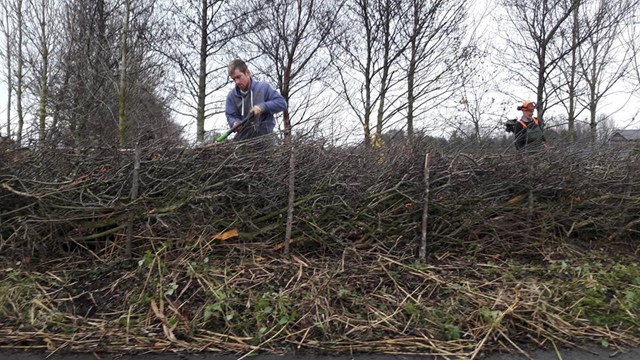 The full results were as follows:
Championship Class:
1st (and best hedge on the day) Peter Gibson
2nd Andy Kirkwood
3rd Damon Peacock

Open Class:
1st William Bell
2nd Craig Proctor
3rd Stephen Boyes

Novice Class:
1st John Handley
2nd Aidan Handley
3rd James Haigh

Junior Class:
1st James Yates-Bell
2nd James Dodgson
3rd Danny Hodgson
The photograph shows the awarding of Championship class first & winner of best hedge on the day, left to right: Craig Thompson (Myerscough College Head of Ag & Country), Duncan Byrne (Wyre Borough Council Ranger), Peter Gibson (1st prize), Andrew Kellet (Landowner).
Share this article
by Dave Salmon
DSalmon@myerscough.ac.uk
Back to news