Hat-trick for Myerscough at national IOG Awards
Published

Monday 6 Nov 2017
A Myerscough College learner has been honoured with a national accolade at the prestigious Institute of Groundsmanship (IOG) Industry Awards 2017.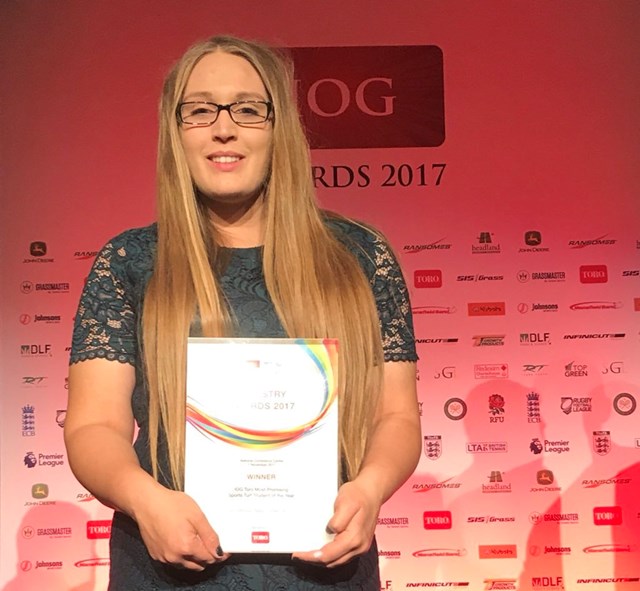 Tara Massey was named the Toro Most Promising Sports Turf Student of the Year. 20-year-old Tara has just completed her intermediate apprenticeship with Myerscough College, working as part of the grounds team at Manchester City Football Club.
Tara was praised for "her level of understanding (that) is nothing short of astonishing. The level of knowledge answers within her portfolio of evidence is more comparable to Level 3 and 4 work, and something that should be highly commended." She completed her Level 2 programme in record time and now is looking to start the Level 3 programme.
The Institute of Groundsmanship (IOG) Industry Awards are now in their ninth year and acknowledge the passion, dedication and challenges faced by grounds staff, volunteers and professionals across all levels of sport. Myerscough was once again well represented at the awards, with sportsturf learners past and present nominated in a number of categories.
In addition to Tara, former Myerscough College learner, James Wood, was named Young Groundsman of the Year. James completed a BTEC in Sportsturf before joining Manchester City. Meanwhile, Myerscough alumni Paul Burgess, who is now the Head Groundsman at Real Madrid, was given a Special Recognition Award.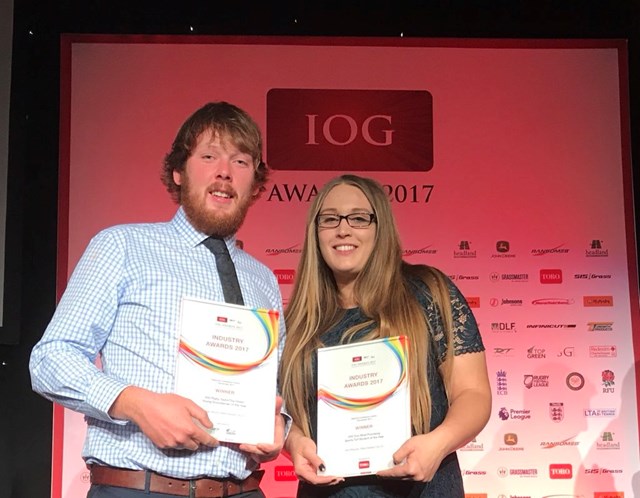 They were given their awards at the ceremony, which is part of the annual SALTEX exhibition, where almost 700 of the UK's and Europe's leading grounds care experts from both the professional and volunteer sector, as well as dignitaries from the governing bodies of sport and influential sports administrators, honoured the expertise, dedication and passion of the grounds profession.
Lee Price, Employer Services Manager at Myerscough College said: "This is fantastic news for the College and congratulations to Tara. The IOG Awards winners can inspire more young people to consider a career in sportsturf. It's great to celebrate so much success in the industry.''
Tara Massey said: "I would say to other young women interested in the industry to not be scared, do not be put off and to just go for it. It's a great job where no two days are the same, you have to solve lots of problems but you can often quickly see the rewards for you efforts."
"I've really enjoyed the college side of my apprenticeship and never realised there was so much to the job. In the future I would like to progress both in my role and in my education and take things as far as I can."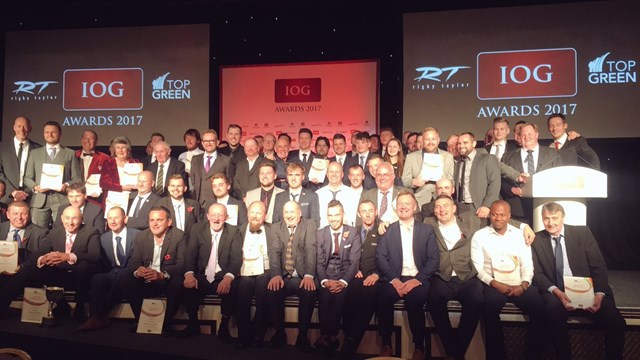 It's the second successive year the category of Most Promising Sports Turf Student of the Year has been won by a Myerscough College learner, after fellow Manchester City sportsturf apprentice, Katie Croft, won the award in 2016.
There was further recognition for Myerscough College as the award for the National Governing Bodies Professional Sports Grounds Team of the Year went to Manchester City FC. The whole of the team completed their sportsturf training with Myerscough College.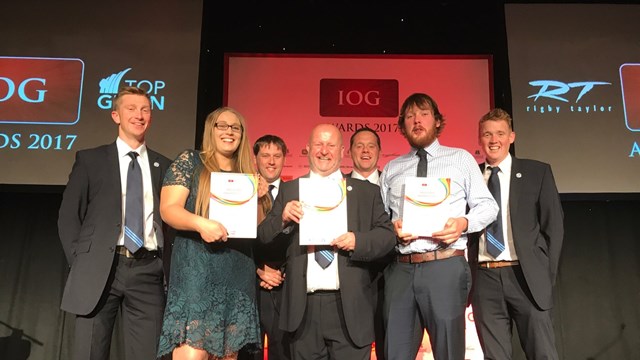 The photographs show Tara and other former learners at the 2017 IOG Industry Awards.
by Dave Salmon
DSalmon@myerscough.ac.uk