Graduate Dominic branches out his arboriculture career
Published

Monday 15 Oct 2018
A Myerscough College arboriculture graduate has started his first job in the industry thanks to a project that links learners directly with employers.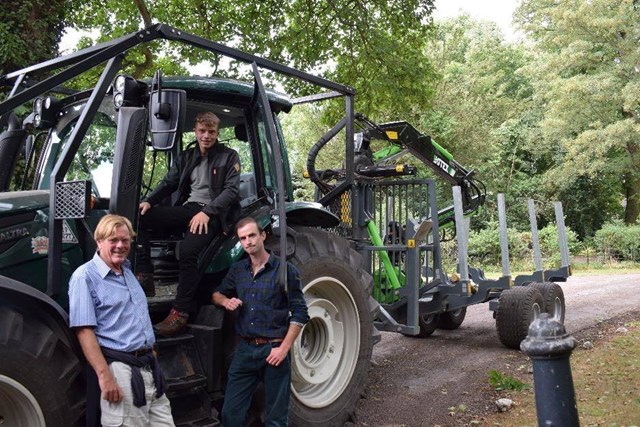 Dominic Young was one of four young college and university leavers helped into work by Forestry Roots - a unique partnership launched this year between the Royal Forestry Society (RFS) and the ALA Green Charitable Trust.
The project brings college and university leavers together with employers to begin their careers, helping to address acknowledged skills gaps within forestry and woodland management and giving young people access to real jobs at market rate wages. All employers are RFS members, committed to high quality training and career development.
Successful applicants are awarded a one-year paid job which may lead to permanent employment. During their Forestry Roots year, the young foresters also receive 10 days Continuous Professional Development (CPD) training to qualify for the RFS Certification in Forestry.
18-year-old Dominic, who graduated from Myerscough with a Level 3 Diploma in Arboriculture, and has secured a position as Estate Under Forester at the Babworth Estate in Nottinghamshire.
Sir Jack Whitaker, owner of the Babworth Estate, said: "We are thrilled to be involved in the RFS's Forestry Roots project. The forestry industry was much in need of an initiative to bring bright students into practical management.
''Dominic is an impressive student, and I'm sure that both he will learn a lot at Babworth Estates and we will benefit greatly too.  Over the next 12 months Dominic will be involved with estate thinning, Christmas tree cutting and transporting, tree planting and weed control, and other forestry tasks."
Anthony Green, of the ALA Green Charitable Trust, said: "We know that the environment is crucial to our future and by working with the RFS we are supporting future foresters to achieve their potential through training and guidance. We are removing barriers to first steps into a career of great value in the woodland and forestry environment where the opportunities are many and varied."
RFS Future Foresters Officer, Adam Todd said: "We want young people to Think Trees when they are deciding their careers. Forestry and woodland management in the UK is a fast paced and growing sector. There are many exciting opportunities for young people to jump into, from establishment of new woods and conservation, to research, timber harvesting and everything in between.
 "The RFS values its relationship with the colleges and universities where these students have studied and looks forward to welcoming the next cohort of applicants in 2019. We would especially like to thank the ALA Green Charitable Trust for making this project possible and to RFS members for embracing the project by offering career developing roles to young people."
by Dave Salmon
DSalmon@myerscough.ac.uk
Back to news