Get ready for the Myerscough Research Conference
Published

Wednesday 31 Oct 2018
It's University Centre Myerscough's annual Research Conference on FRIDAY, 9TH NOVEMBER.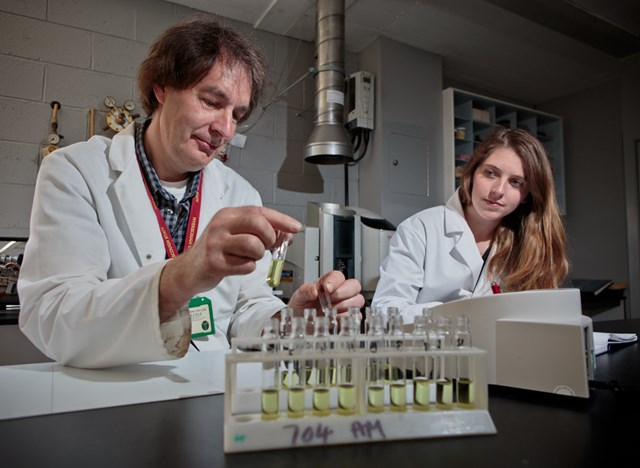 The Research Conference was developed as a method to share the research undertaken at the College with our staff, students and other stakeholders. This is research undertaken by postgraduate students, research active staff and undergraduate students.
The conference will be split into three main areas – Arboriculture & Sustainable Agriculture, Sports Health and Performance, and Welfare of Managed Animals. Various topics related to these main areas were suggested and staff and students of Myerscough College, many of them current PhD candidates, will use the day to present some of their latest research and findings.
In addition, there is once again a range of specialist external keynote speakers invited to the event. This year they include: Dr Graeme Law (York St John University), Jon Banks (Plant Diagnostician, FA Bartlett Tree Company Ltd), Dr. Mark Dagleish (Moredun Research Institute, Edinburgh), Dr. Ben McDermot (University of Liverpool) and Nicky Cook and Amy Lewis (Worldwide Veterinary Service and Mission Rabies).
Other external speakers include John Barclay (Lancaster University), Dr. Emma Ferrant (University of Birmingham), Dr. Kevin Butt (University of Central Lancashire), Luke Forste (Section head of Birds, Reptiles and Small mammals at Blackpool Zoo), and Tamzin Furtado (Ph.D. student University of Liverpool).
Delegates are invited to come and ask questions about the research and to be prepared to get involved in the day, to get the most out of it. Myerscough is the leading UK college for applied research in the areas of plant science, animal welfare and sports performance, with the annual conference coordinated by our Director of Research, Dr David Elphinstone.
He said: ''We are one of the largest providers of these specialist subjects in the country and research plays a key role in this.
''Following the success of the previous Myerscough Research Conferences, we are delighted to be hosting the now well-established annual event.
''University Centre Myerscough works with a number of companies each year on Research & Development (R&D) projects for our associated industries. These companies pay for the expertise and facilities here at the College, but agree that they are happy to share their research with our students. Myerscough College supports staff and postgraduate student research.
''Ultimately, this research will enhance the content of our HE courses. In addition, research-active staff will strengthen their links with allied industries and generate greater experience in the research process; which in turn improves the teaching and learning, either using research as content or teaching the research process itself.
''I hope everyone enjoys the research conference and take an active part. Staff members might consider the day to contribute towards their continued professional development. Students can use it to gain confidence and experience in attending scientific conferences and conventions.''
You can download a copy of the full programme HERE
To download and read our current full Myerscough Research Report, CLICK HERE
For more details of research at Myerscough College and University Centre, CLICK HERE  
by Dave Salmon
DSalmon@myerscough.ac.uk 
Back to news