Foundation learners enjoy Portuguese study trip
Published

Wednesday 12 Apr 2017
A group of Myerscough College Foundation Learning staff and students have just returned from a work experience and enrichment trip to Portugal.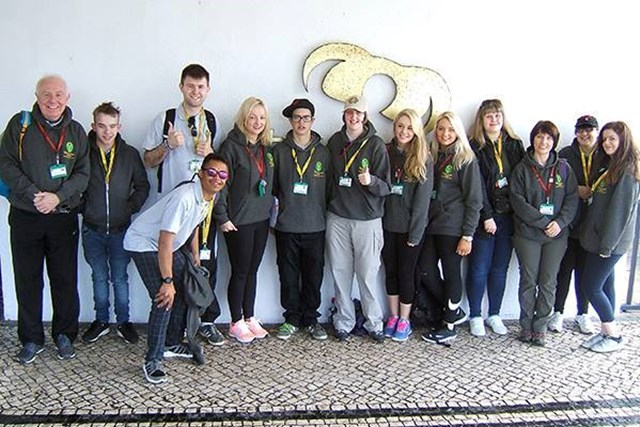 Thanks to Erasmus + funding, the Myerscough group had the opportunity with a specialist centre for the treatment of cerebral palsy as well as a number of other activities including workshops, sight-seeing tours and other cultural enrichment.
The scheme has been running for a few years now and is a joint project about living and learning abroad, with the aim of promoting the well-being and social acceptance of people with disabilities, improving their skills and their future employability.
For two weeks, the students undertook an internship, with activities mainly in Quinta da Conraria, but also at the Centre for Rehabilitation of Cerebral Palsy in Coimbra (the APCC). As part of the trip, Myerscough's Head of Foundation Learning, Barry Sherriff, gave a series of talks on training and inclusion to staff and members of the APCC. This covered areas such as best practice in inclusion and integration, vocational training and specialized partnerships, as well as discussions on how the two institutions can work together in the future.
The APCC and Myerscough College have been collaborating for several years on a joint project called 'Living and Learning Abroad', which has enabled Myerscough learners to undertake vocational training with the Association, promoting social integration for people with disabilities. This partnership offers individuals the opportunity to improve their skills, improve their employability and gain cultural awareness.
Barry said: ''Our Foundation Learning students had an amazing experience in Portugal.
''We all received a warm welcome from staff, students and directors and have been working very closely with them. The weather was kind and the group became a solid team and made us proud each day.
''They have used various communication aids to speak with other students, and in doing so are developing a vast range of skills which will live with them forever, in particular the immense growth in confidence and independence they are all showed. They all developed their awareness of the Portuguese culture and language and can all now communicate in basic Portuguese words, which have therefore lead them to make new friends.''
Other activities undertaken by the group in a packed programme included a music workshop, planting herbs to be sold at market, horse riding, harvesting oranges, lemons and vegetables, a theatrical workshop with Portuguese students in the style of puppeteering, baked traditional Portuguese bread and sampled it, an Easter egg hunt , and looking after small animals. Each student also had the opportunity to plant their own tree with a plaque stating the type of tree and their name. 
For more information about foundation learning at Myerscough College, click here: http://www.myerscough.ac.uk/courses/foundation-learning/
by Dave Salmon
DSalmon@myerscough.ac.uk
Back to news