Foundation learners enjoy football tournament at Deepdale
Published

Tuesday 16 May 2017
Recently a group of Myerscough College foundation learning students played in the Lancashire FA Pan Ability tournament at Preston North End's Deepdale stadium.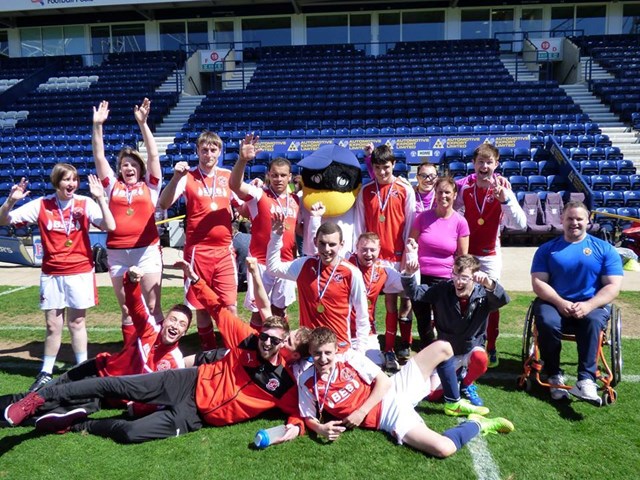 Thanks to the guys at the Fleetwood Town F.C Community Trust for this report into how they got on:
++++++
Upon arrival players were able to get ready in the home and away dressing rooms that the first teams use and walk out of the tunnel and onto the pitch. After a briefing with all the teams the games got underway with Myerscough Whites facing off against West Lancashire College resulting in a great 2-0 victory with Jake Graveson scoring a great long range effort.
The next match was Myerscough Reds first game of the day which resulted in another 2-0 victory over Blackburn's B team followed by another 2-0 victory by Myerscough Whites over Newman College B team with a brace from Ashley Townsend with a great robot dance celebration to go with his goals. This meant that after the first three games Myerscough were still yet to conceded a goal however this was ended when the Myerscough Reds faced Blackburn College in a hotly contested match which resulted in a 1-1 draw after a rocket from Blackburn's centre back which left the keeper James Galley with no chance.
After lunch Myerscough Whites faced off against West Lancashire College who inflicted their first defeat off the day shortly before Preston A team inflicted another on Myerscough Reds. However both teams kept their heads up and remembered that they were there to have fun and anything else would be a bonus.  Both teams once again found their form with Myerscough Reds earning a 2-1 victory over Newman College with the winning goal coming in the last minute of the game.
After the scores and points had been tallied up Myerscough Reds played in a semi-final against Newman College, whilst Myerscough Whites faced West Lancashire College in the final Unfortunately, it wasn't meant to be as West Lancashire College ran out eventual winners with the Myerscough Whites collecting their runner up medals and Myerscough Reds losing in an extremely competitive match to Newman College after a penalty shootout which ran around back to the starting order due to the quality of goalkeeping and penalty taking from both teams. 
After collecting their medals and getting a big group photo as well as meeting Preston North End's mascot Deepdale Duck, the season was over and all players got a thoroughly deserved rest after once again representing themselves and the College in an extremely professional manner. A big thank you goes to Amy Thompson for helping to organise these events and entering the College into these competitions, as well as Fleetwood Town FC for their support in running the teams and taking the training sessions. Thanks also to the whole of foundation learning staff and students for their support throughout the season and of course most importantly of all the players themselves. Bring on next year!! 
Share this article
by Dave Salmon
DSalmon@myerscough.ac.uk
Back to news