Foundation learner Scores with specialist communication system
Published

Tuesday 21 January
A Myerscough College foundation learning student is thriving thanks to the use of a specialist, innovative communication system.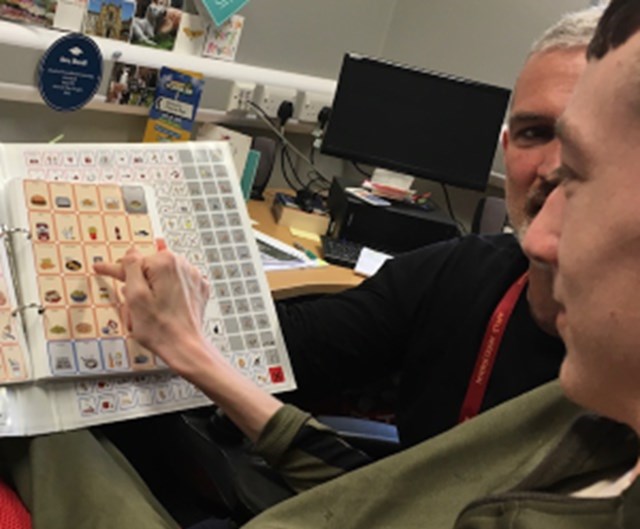 Liam Davidson uses SCORE - an augmentative and alternative communication (AAC) tool, designed to improve the quality-of-life of anyone of any age with a severe communication impairment. A study at the University of Cologne formed the Score communication system. Central to Score is the language development. Using a communication book, the user's language is progressively developed.
The most frequently used core words are consistently organised in a static frame around a dynamic block of fringe words. This clever setup gives the user access to core vocabulary at any time. Grammar functions are dynamically presented, based on the part of speech, and can be used to build grammatically correct messages. Learners and their communication partners use and practice with a set of selected focus words for a number of weeks. The idea is that if the child's language development is facilitated and subsequently improves, then the child's communication skills will also improve.
22-year-old Liam, a former pupil of Highfurlong School in Blackpool, has been using the Score system for the last few months to help him communicate while in College.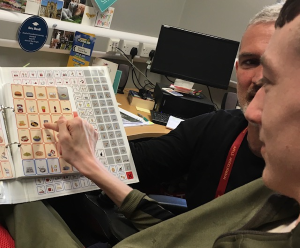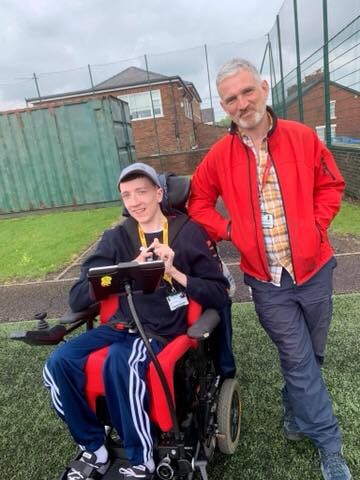 Communications specialist, Erica Smith has been working on the project with Liam, and explains more: ''I praise Myerscough to everyone I speak to about how inclusive and supportive they are of their students whatever their needs. Having Matt (Waite, Myerscough College Inclusive Learning Advisor, pictured with Liam above) as such a good communication partner makes a huge difference as he allows Liam to be as independent as he can be while offering all the support he needs. 
''Having seen SCORE at an ACE Centre information day I immediately thought of Liam, who I had supported with his AAC for the last 15 years.
''Liam was already using a vocabulary package called TouchChat HD with WordPower on an iPad. Over the years he had trialled high-tech devices but discarded them as he felt they made him stand out and weren't visually as cool as he wanted. What I was looking for was a low tech alternative for those times when he wasn't up to or couldn't use his iPad.
''While Liam is a competent AAC user and is very independent in his social and functional communication around the college campus, he has always been a reluctance to use it outside of education. At home his Mum can understand him, and they get by with their own form of communication. But where I saw the SCORE binder for Liam was those times in the future when he is out in the community in 12 months' time after leaving Myerscough, and being a 22-year-old man with a lot to say. How would he communicate with new people if his family weren't around and he was with people who didn't know how to understand him? How would he show people just how much he was capable of?
''I showed his Mum the SCORE binder and she was happy for him to try it at home. I explained that Liam could use it independently and he could sign 'book' to ask for it if it wasn't in his reach. I assured Mum that simply having it in his bag when he goes out will give him the opportunity to communicate with so many more people in greater depth which he is more than capable of.
''With the binder he can not only have his basic needs met just by using the cover, but can also engage with his peers and make jokes to his tutors, which he loves. His most commonly used jokes and phrases are on the cover and the bio at the top gives new people an insight into his capabilities and how he communicates.
''Liam has been using the binder in college for about three months now and can navigate the binder independently with the larger cells.''
Rachel Pendleton, Lecturer in Foundation Learning at Myerscough College, adds: ''A massive thanks to Erica for all the support she has given Liam over the years.
''Liam is an exceptional student and young man who has had such a positive impact on us all and the college in general.''
You can find more information at https://www.techcess.co.uk/score/
by Dave Salmon
DSalmon@myerscough.ac.uk 
Back to news