Former Myerscough apprentice named Young National Chef of the Year
Published

Wednesday 4 Oct 2017
A former Myerscough College apprentice has won a prestigious national chef competition.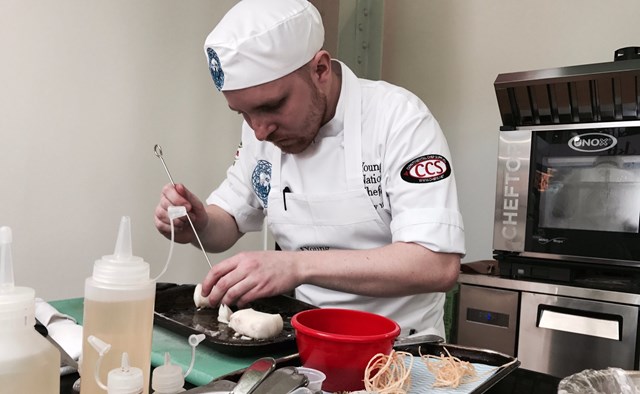 Danny Young, junior sous chef from Northcote Manor, was revealed as The Young National Chef of the Year winner. Danny has finished in second and third place in the YNCOTY competition over the last two years, showing that determination and perseverance pays off.
23-year-old Danny launched his career in the kitchen with Myerscough College, completing an Advanced Apprenticeship in Catering and Professional Chefs.
For the competition Danny cooked a starter of Norwegian haddock, salt & vinegar black peas; a main course of potato crisps, dashi "Caviar"; rare breed miso beef, oriental mushrooms, crispy kale, coriander; and a dessert of warm orchard apple syrup sponge and Horlicks ice cream.
Danny said: "To be honest, it's not really sunk in yet. This is the third time I have competed in The Young National Chef of the Year and I've worked so hard over the last few months to develop my skills."
Danny will receive a stage to the value of £2,500 courtesy of KNORR, while the Norwegian Seafood Council will arrange for him to join Michel Roux Jr for the culinary trip of a lifetime to Norway. Churchill are teaming up with Nigel Haworth and Northcote Manor to provide the winner with the ultimate gastronomic experience at the 2018 Obsession event, while Danny also receives one year's membership to the Craft Guild of Chefs.
Mark Sargeant, Young National Chef of the Year ambassador, said: "It's been an exciting and close final, and the future of the industry is in safe hands with these chefs.
''Winning this title is simply the start of what will be a long and successful culinary career and I'll certainly be following Danny Young over the coming years to see where this title takes them."
by Dave Salmon
DSalmon@myerscough.ac.uk