Football students wear rainbow laces to support LGBT month
Published

Wednesday 2 Mar 2016
Myerscough College football students have shown their support for national LGBT History Month by playing their latest match with rainbow laces in their boots.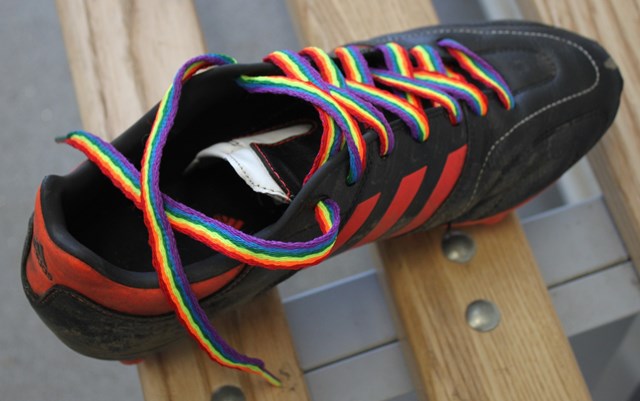 LGBT History Month aims to promote equality and diversity and celebrate the lives and achievements of lesbian, gay, bisexual and transgender communities.
Myerscough have taken part in the rainbow laces campaign as part of a wider drive to promote kicking homophobia out of sport. As well as playing the game using the laces, the students took part in a discussion on the subject to gain a greater understanding and support of the initiative.
This included the viewing of a video, featuring players from Arsenal and a 'pledge poster' – where staff and students could sign to show their support.
Becky Wood, Myerscough College's Equality, Diversity & Inclusion Officer, said: ''This is a great initiative that enables us to promote anti-discrimination in sport as well as further embedding equality, diversity and inclusion into our teaching and learning.''

''There are no known openly gay footballers in the English and Scottish leagues, among a total of 5,000 players across 134 professional clubs.

''The former England Under-21 international Justin Fashanu was the first professional footballer in Britain to come out, in 1990, before he took his own life eight years later, aged 37.

''Let us start the conversation about how our sport can be more inclusive. For all lesbian, gay, bisexual and transgender people to be accepted without exception on playing fields, terraces and in stadiums across the world.

''Unfortunately, homophobia, biphobia and transphobia remain a problem in many sports, often stopping LGBT people from being themselves and putting them off taking part, or even watching sport.

''Attitudes should and can change. It's about changing the language and creating an environment where LGBT players and supporters should feel comfortable being themselves and being out in the game.

''Let us promote a zero tolerance approach to homophobic, biphobic and transphobic language and abuse and think about ways you can challenge gender stereotypes to create a more welcoming space for all.''


The Rainbow Laces initiative has been active for a number of years now. In 2014, a pair of rainbow laces was sent to every professional footballer in the country and encouraged them to lace up and show support for LGBT individuals in the game. Players from more than 70 clubs, including Arsenal and Manchester City, took part.

The College continues to actively pursue becoming a leading provider in equality, diversity and inclusion in the education sector after recently achieving the prestigious Stage 2 'Investors in Diversity' award. Myerscough also have a number of ongoing initiatives as part of the promotion of LGBT in education, including a dedicated student support group.

The photographs show Myerscough College football students wearing their rainbow laces.
by Dave Salmon
DSalmon@myerscough.ac.uk
Back to news