Floristry graduate blooms at Miss Universe final
Published

Wednesday 13 Dec 2017
A Myerscough College floristry graduate was given the honour of designing the bouquet for the winner of the 2017 Miss Universe contest in Las Vegas.
From swimsuits to evening gowns and everything in between, the 66th Miss Universe pageant was won by Miss South Africa, Demi-Leigh Nel-Peters, who was presented with flowers designed by Nadia Davies. Degree student Nadia graduated in summer 2016 from the College's BA Honours programme in Professional Floristry & Floral Design.
Nadia has been part of the Ohio State University international intern programme, working at the English Garden Florist, in Las Vegas. The Ohio programme is a long-term partnership with Myerscough which sees students undertake an internship at one of a number of prestigious employers across the United States. Students who choose to undertake the programme normally take a year out during, or after, their degree course, similar to a 'gap year'.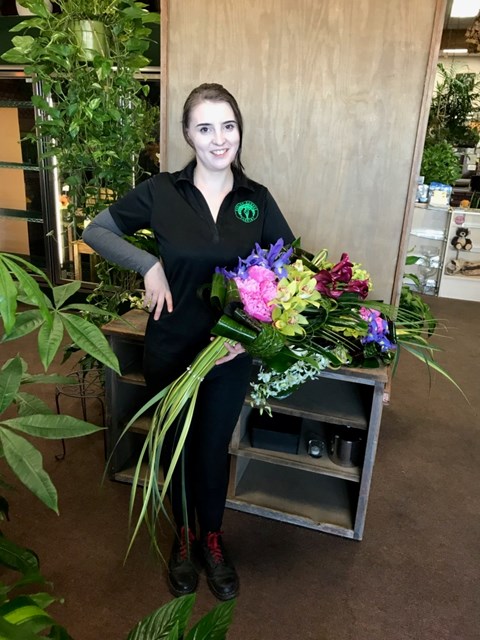 Nadia's internship has taken her to the English Garden Florist, where she was asked to design the bouquet for the winner of the Miss Universe pageant, with her work being seen by millions around the world.
We caught up with Nadia, who explained more about how the opportunity came about: ''The show was at Planet Hollywood and we were the florist that the event co-ordinators contacted to order the flowers. The manager of the shop asked me to do the designs as he felt I had the designer qualities to do the bouquets. He also felt that it would be a great opportunity for me to do this as it would look great on my CV.
''I had to create three presentation style bouquets, two for the runners-up and one for the winner, and they had to be contemporary with bright colours. So I researched the previous designs that florists have done in the past to see what techniques and flowers they had used so that I could create something different and impressive as I had knew that every florist worldwide would be watching to see what the flowers would be like, no pressure!
''I ended up weaving, rolling and looping leaves in the design. For the winner's bouquet I used pink Calla Lilies, pink Peonies, green Cymbidium blooms, green dendrobium Orchids and Iris, along with palm leaves, aspidistra leaves and other tropical foliage.
''It seems somewhat unreal that my flowers have been on a world stage on TV! I'm so proud of myself for creating such beautiful designs and grateful that I have been given the opportunity to do the event. The responses I have received about my flowers have been overwhelming and I can't thank everybody enough.''
Nadia also told us about her plans for the future: ''It has been an amazing year for me. I've done so much work in such little time and improved upon myself as a designer so much, I've learnt new techniques and designs and have been given opportunities that not a lot of young floral designers have been given.
''I discovered the internship opportunity while studying at Myerscough College, where Mike O'Keeffe was doing a presentation about where I could go and what I would do, so I signed up for it. I have always wanted to come to America and I'm so glad that the internship gave me the opportunity do that.
''As for the future, I haven't decided upon yet but one thing I do know is that I would like to take part in the Chelsea flower show in the competition for the Young Florist of the Year. I believe that this will help me in the future with other plans that I have to develop my career.''
A spokesperson for English Garden Florist said: ''Our talented and wonderful designer, Nadia, created and designed the beautiful and outstanding floral bouquets for this event.
''We feel very honoured and happy that we have been offered to be a part of this great and special occasion.''
Sam Cook is the course tutor in Myerscough College's foundation degree floristry programme and said: ''Congratulations to Nadia, her arrangement looks amazing!
''It's great to see what she is up-to now. Good luck to Nadia with the rest of her time in Las Vegas and all the best wishes for her future in floristry.''
Share this article
by Dave Salmon
DSalmon@myerscough.ac.uk
Back to news