FEATURE: Using Virtual Reality in the land-based sector
Published

Thursday 21 Mar 2019
An innovative project led by Myerscough College and aimed at using Virtual Reality to enhance skills and learning in the land-based sector has been hailed as an overwhelming success.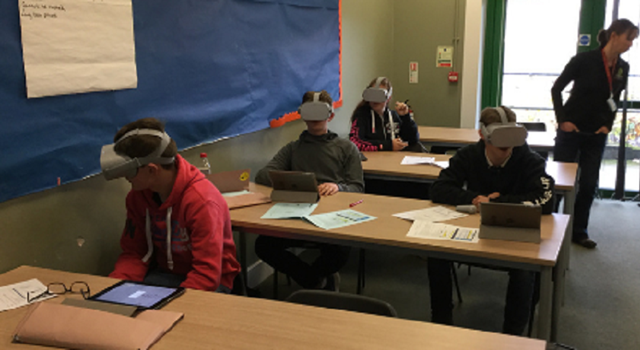 Direct case studies can be found HERE  
Following a successful bid to the Association of Colleges funded by the Education & Training Foundation, Myerscough's E-Learning team has spent the last year designing VR packages to be used in enhancing teaching and learning. It was decided that the technology would be initially trialled in the sectors of Agriculture, Equine and Sportsturf.
Working with educational and industry leaders, the aim of the project has been to enhance student practical skills in preparation for employment, through scenario based learning packages, and strengthening employer and educational partnerships, using VR to address perceived skills gaps.
The lead organisation for this project was Myerscough College, with Project Lead Laura Power, E-learning Developer and Practitioner with case studies being led by Alexandra Nutter, E-learning Advisor. The project also had a number of sector partners. On the education side, these included Plumpton College, HEROS Equine Charity in Cambridge, Ambito Beaumont College and Barnsley College. Industry partners included local company Shepherd AGRI, LLMVets, Old Holly Farm, Higher Spen Equine, with Manchester City Football Club and the Institute of Groundsmanship as critical friends.
Initially, teaching staff and selected industry employers were consulted, and identified potential gaps in the practical skills of students or employees. This led the Myerscough E-Learning team to conclude that Virtual Reality would be a good technological tool for practical skills.  Tutor's use of, and ability with, technology, was also assessed, and it was concluded that Virtual Reality, when implemented effectively, could reshape the way tutors taught within sessions to engage students beyond expectations.
Filming for the VR packages was then predominantly carried out at Myerscough College's main campus, during the last summer and early autumn of 2018, before the last employer event was held in November to assess the project to date.
Now, the initial year-long project has been completed, to great success and acclaim from Myerscough staff, students, employers and other industry partners involved.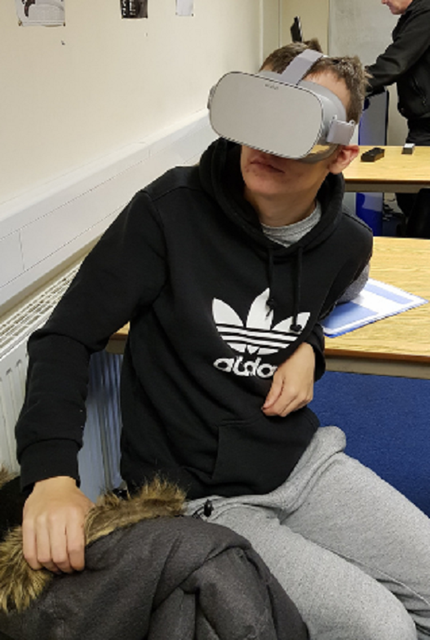 Laura Power explains more: "Changes are coming to the further education sector, including the introduction of the new T-Level qualifications. Virtual Reality creates opportunities for students in experiencing different environments that may not be possible in real life due to resource constraints and deeper learning through scenario and choice based learning pathways.
''The initial challenge was how to incorporate VR in existing learning methods. New technology usually can't be applied to the land-based as it doesn't teach learners and workers the appropriate skills.
''We created employer events to garner interest in each area we were working on – Agriculture, Sportsturf and Equine. We then, from their feedback, designed scenario based packages for each one. For example, inside a milking parlour for Agriculture, tacking up a horse for Equine, and health and safety and machinery checks for Sportsturf.
''To make each VR package, a storyboard is designed with key points and we then begin to build the VR scenario, carry out the 360° filming , then working with the students, tutor or employer to refine what they need. The packages are created and then reviewed by employers, tutors and learners until they were perfected according to industry and curriculum needs.''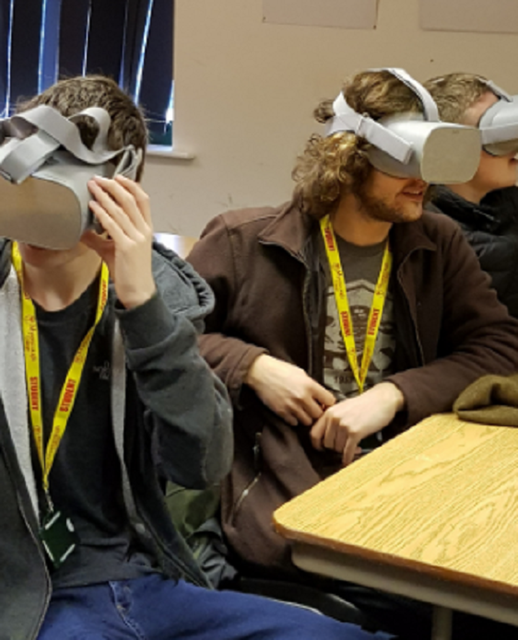 Alexandra Nutter continues: ''Since these opportunities became available in September, we've had some great case studies from users.
''As I'm from a teaching background, I realised that as well as making the VR packages, how they were used within courses was very important. So, I created a digital lesson plan, which incorporated VR into learning, but wasn't exclusive. It was important that it submerged in with other digital technologies, which meant the new 'cool toy' of VR was hidden with other technology.
''We then worked on refining the offer and now we have an accessible way of trialling the digital technology on students across any subject area.
''If subject areas are going to use VR, then it needs to be as interactive as possible, and not just being used because it's available. There has to be a sound pedagogical reason.''
Laura adds: ''This is an exciting opportunity and now we've showcased it and trialled it over the last year we're in a position to roll it out further. It means that students will be able to effectively experience a scenario in VR before doing it for real. It opens up conversations about best practice and makes the process of learning more efficient.
''Making the mistakes in a VR trial means that when a student or employee is faced with the same scenario in real life they won't make the same error. This gives our learners an advantage.
'' We see this as a long term plan. VR equipment updates, software and hardware, has all been factored into the college's budget for the future. The E-learning team at Myerscough College now has the expertise to create resources and share best practice with other institutions and we can streamline future package development.
Alexandra concludes: ''We have a number of employers that we're hoping to work with in the coming months, including Blackpool Zoo who want to use the technology to train their staff. The knock on effect for our learners at Myerscough is it means they'll be using the most up to date teaching methods available, so when they leave us they'll be truly job ready. It also enhances our reputation as a training provider even further.
''We've also been invited to collaborate on several other projects, including European ones, who have seen the impact of our work. The college has also been successful in gaining funding for a new OTLA project to develop the use of Virtual Reality to enhance the teaching of Maths and English, with a focus on English provision.
'' Virtual Reality is being proven as a tool which when used correctly can unlock a learners' full potential.''
Other subject areas set to benefit from Virtual Reality at Myerscough College in the coming months include floristy, photography and farriery.
Quotes:
Quotes from tutors:
""It was clear that the students really enjoyed the session – I haven't seen them voluntarily give a round of applause before!! Very well done and thank you for coming along to run the VR and helping make sure the lesson worked well. With such a great response I think there is a strong case for more VR to be used!!"   Craig Thompson, Head of Agriculture
"(VR training) … was very informative and my students loved it!"  Paul Wilcox, Equine tutor at HEROS Charity
"I'm going to focus on the Technology Enhanced Learning spiral training because I can see the benefits for the students now I've used the VR lesson template"  Simone Collinge, Equine Tutor
Quotes from students:
"I'm going to bribe my mum to get me one for Christmas…..it'd be good for English and Maths!"  Sportsturf student
"I like that it's more independent"  Sportsturf Student
 "I like this kind of approach to lessons, I hate just copying off a board. It's boring." Equine Student
by Dave Salmon
DSalmon@myerscough.ac.uk