FdA Football students benefit from outstanding Chinese partnership
Published

Friday 18 Aug 2017
Myescough College has been hosting a visit from a delegation of Chinese students at the College's Bilsborrow Centre over the last two weeks.
The visit from the Far East has been part of a strong link created between the College and Chinese Company, the Soccer Rangers, which is already paying huge dividends for Myerscough HE football students.
As part of the visit, the students have taken part in football training on Myerscough's state-of-the-art 3G and grass pitches, had sessions on how to coach the game, enjoyed basketball, golf, volleyball and ultimate frisbee activities as well as undertaking nightly team building exercises.
They have also been on several educational trips while they have been here. These have included a visit to the Lake District for tree trekking, archery, orienteering and map reading, a visit to Fleetwood Town FC for training, a tour, dinner and a match, a visit to Skipton Castle and a tour of the National Football Museum and Man Utd.
With the rapid rise of the sport of football in China, including the prominence of the big-money Chinese Premier League recently, Myerscough has been actively seeking to increase its overseas presence.
Former Myerscough football student, Taylor Collard, is currently on the senior coaching staff at Soccer Rangers, who are based in Shenzhen, Guangdong.
Taylor studied a Foundation Degree in Football Coaching before graduating from UCLan, Myerscough's partner HE institution, with a degree in Sports Coaching in 2014. Since then he's worked in Spain and Dubai before making the move to China.
Current Myerscough FdA Football Coaching students have also been involved with the visit, presenting them with a fantastic opportunity to gain further work experience and forge strong links for their future.
Recent graduate Graham Lyons has been coaching in the Far East during the summer after being selected from interview earlier in the year with representatives from Soccer Rangers. He split his time over there between a two-week city based training camp as well as visiting more rural parts of the country.
Course Leader for the FdA in Football Coaching, Chris Yiannaki, was presented with a flag during the visit to commemorate the visit and the relationship moving forward.
He said:  "The visit has been an outstanding success for both parties and we are delighted about the wonderful opportunities it has afforded our students.
"This project is something we've been working on for a while as it is obvious there is a new audience over in China and an ever growing interest in football."
**
Myerscough College has strong links with professional clubs across the UK as well as internationally - have a look at the map below to see just some of the clubs and destinations where some of our former learners have been working: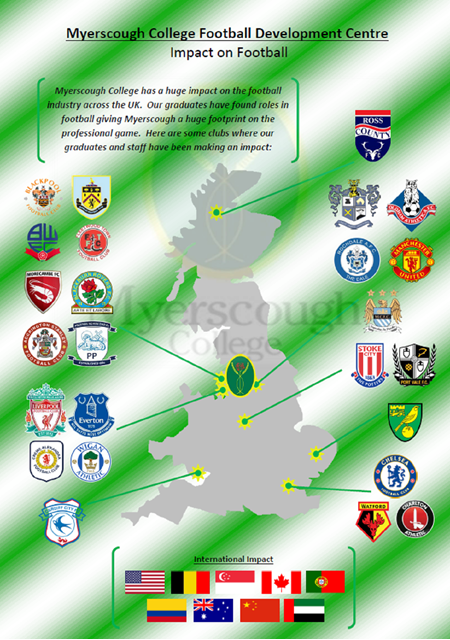 Share this article
Back to news