Farriery apprentices enjoy 'Donkey Day'
Published

Wednesday 6 Dec 2017
Myerscough College's farriery apprentices have enjoyed learning about taking care of donkey's feet during the annual 'Donkey Day'.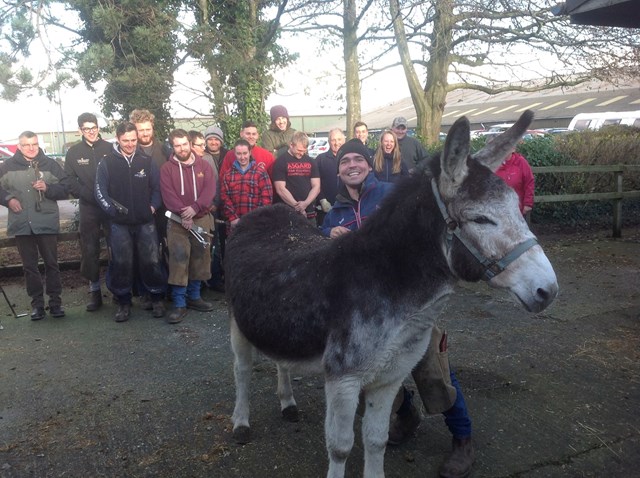 Every year experts from The Donkey Sanctuary in Devon are invited to Myerscough to give a lecture and an expert demonstration on the methods and techniques of foot care for donkeys and how it differs from that of horses.
For the twelfth year, Senior Farrier, Colin Goldsworthy was on hand to give plenty of advice to the Myerscough learners on trimming donkey's feet, helped by other staff including veterinary surgeon, Jo Goliszek from the sanctuary and local co-ordinator, Pam Moon, before the apprentices worked on the feet of the visiting Blackpool donkeys.
Every year the students enjoy the day and the chance to work with the Blackpool donkeys. They're also highly interested in the demonstrations given by the experts and they come away from the day having learned a great deal more about the structure and difference of donkey's feet compared with horses and ponies.
Colin Goldsworthy said: ''The guys are keen to learn and it's very rewarding to see them enjoying it so much. I'm pleased that they've learned plenty from the day.
''It's an important skills for them to learn as donkey's heels grow three times faster than their toes so their feet have to be trimmed differently to horses.
It's been a wonderful day and we always get a warm welcome here. We're looking forward to our next visit!''
Click here to watch a video of Colin and Jo from The Donkey Sanctuary talking about their visit to Myerscough College:
The Donkey Sanctuary look after around 3,000 rescued animals as well as providing support across the UK and the rest of the world. For more information go to www.thedonkeysanctuary.org.uk
by Dave Salmon
DSalmon@myerscough.ac.uk
Back to news