England cricket star gives coaching lesson to Myerscough students
Published

Wednesday 11 Mar 2015
Myerscough College cricket students have been treated to a coaching lesson by an England international off spinner, Stephen Parry.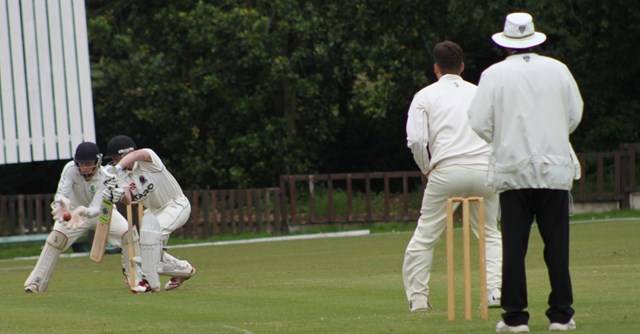 The Lancashire star popped into see students on the Level 3 BTEC programme at the college's Preston campus, overseeing a training session as well as coaching some of the students on a one-to-one level, followed by a question & answer session on topics such as the athlete's lifestyle and diet, attitude to the game, as well as his career and favourite players.
Stephen was in college as part of the deal with Total Clothing Solutions, who supply all the student's playing and training kit. He said: ''It's nice to be here and watch the students in action.''
He also offered advice for current and future students:''Make sure you take every training session and class seriously and that you always leave having got something out of it, something that you wanted to do. Perhaps it's working on a particular shot or ball in the nets. Keep your focus and always have a positive attitude to how you approach both your studies and the game.''
''You can't expect to just get by simply with what you're told by a tutor. Be proactive and work to improve.''
''As students, they're at an age where they need to have clarity in what they're trying to get better at but it's important to relax too. I really enjoyed seeing the lads laughing and joking sometimes because you play cricket as a team and having personality is important. Not everybody will make it in the game as a player but by keeping testing yourself to be as good as you can you can open up many different options.''
Stephen also offered a fascinating insight into the professional game, that's saw him rise through the county ranks and into international cricket: ''I've been overseas many times, including to Australia ten times. You learn lots by playing in different conditions and a good attitude is key. My experiences helped me to grow as both a person and within the game, and this was a huge help when I made my England debut in the Caribbean last year.
''The Big Bash last year was also a good experience for me to play with such amazing overseas players. I settled well in the big games and just tried to take the pressure off myself. I did ok in the games I played. It was hard cricket and very focussed.''
''The best batsman I've played with is Australian, Simon Katich, while the best bowler would have to be Glen Chapple. Both got better with age and improved their averages as they got more experienced and were fantastic to play with.''
Andrew Fletcher is Course Leader of Myerscough College's Foundation Degree in Cricket Coaching and says: ''It's a great experience for the students to be receive coaching from international players. Thanks to Stephen for being so generous with is time and expertise.''
''It's fantastic that we can offer these extra opportunities to our students in addition to the great facilities and courses that we have. As Stephen said, we provide a great platform for students not only to improve their game, but their qualification sets them up for wide ranging career opportunities within the sports industry.''

Left arm spinner Stephen is now a regular in the England set up and has played in three T20 & two one day international matches, including a Man of The Match performance on his debut against the West Indies last year. He's just returned from a tour of South Africa with England Lions and was also involved in the latest Big Bash in Australia for Brisbane Heat.
Myerscough's relationship with Lancashire County Cricket Club is a strong one, with current first team captain, Tom Smith, treating prospective new students to a coaching session just last week at Emirates Old Trafford, where the college also host courses. 
by Dave Salmon
dsalmon@myerscough.ac.uk
Back to news