England accolade for Myerscough cricketer Callum
Published

Tuesday 17 May 2016
A Myerscough College student got to rub shoulders with the cream of England's cricketers this week as he picked up a prestigious award at the ECB's annual dinner.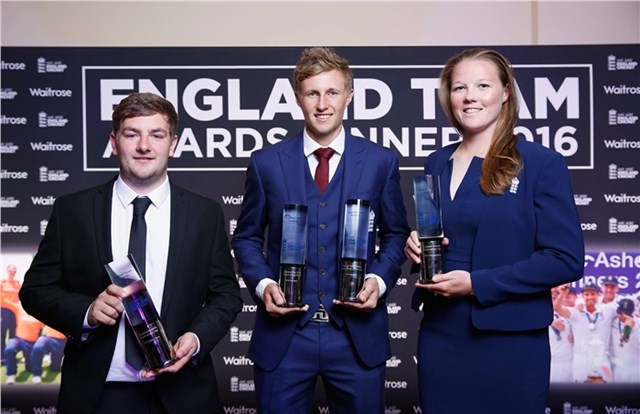 Callum Flynn was honoured as one of the best players of the 2015/16 season at the event that recognised outstanding individual performances in all formats of international cricket over the last 12 months.
21-year-old Callum picked up The Disability Cricketer of the Year award after he played a starring role in helping the England Physical Disabilities squad to victory in the inaugural Physical Disabilities World Cup in Bangladesh last autumn.
A talented schoolboy cricketer who was previously in Lancashire's county-age-group squads, Callum needed a titanium knee replacement to continue his cricket career after being diagnosed with bone-cancer when he was 14 years old.
Callum said: ''To be playing for England is such an honour, especially when you've been through what I have. Six years ago I was told I'd never play cricket again.
"We were so proud to win the first ever multi-national cricket tournament of this kind. It was an incredible feeling.
''It was a significant step forward for disability squads and has proved to be a great showcase for disability cricket.''
Callum has been a Myerscough College student for several years now, having initially completed a Level 3 BTEC Extended Diploma in Cricket Studies before moving on to study a Foundation Degree in Cricket Coaching, which he completes this summer.
Ian Nairn, captain of the England PD team said: ''Flynny is a top batsman and in disability cricket I think he's the best player in the world.''
PD coach, former England leg-spinner, Ian Salisbury, said: ''To go from fighting cancer to seven years later winning Player of the Tournament at a world event is a story that will inspire any young kid.''
ECB Chief Executive Officer, Tom Harrison said: "It's been a remarkable year for our international teams (and Callum) has made a big contribution to England cricket, helping to win matches and to inspire a wider audience and so deserves the highest praise."
Andrew Fletcher is Callum's tutor on the Cricket Coaching Foundation Degree course and says: ''It's another amazing achievement which can only encourage more players with disabilities to play the sport. Callum has shown that regardless of the challenges that you might face, if you're determined, you can achieve your goals.''
You can see a video of Callum showing why he won the award by clicking here:https://amp.twimg.com/v/d49f9857-4a13-44b0-9028-c9aa01c6f5ec
by Dave Salmon
DSalmon@myerscough.ac.uk
Back to news