Cumbrian partnership boosts animal care and equine careers
Published

Wednesday 26 Feb 2020
Myerscough College has agreed a new partnership with Furness College to deliver animal and equine study programmes across South Cumbria.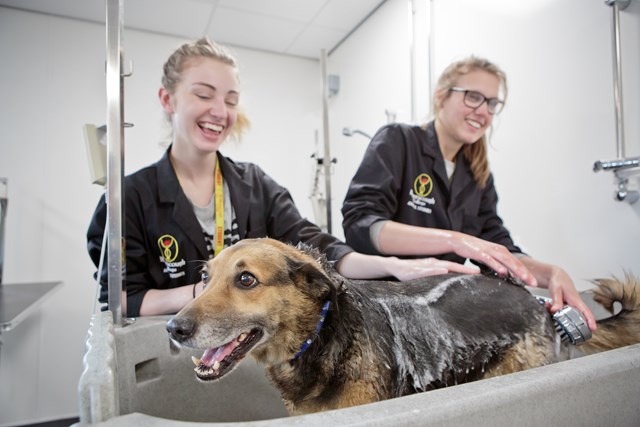 Students will be able to learn the theory of animal care at their Channelside campus in Barrow, combined with practical experience at the state-of-the-art facilities at Myerscough's main Bilsborrow campus.
The new study programmes will take the form of two days a week of classroom learning at Furness College's Channelside campus, with the chance to do field work and work experience in Furness and the South Lakes. Furness-based students will then travel one day a week to Myerscough, via a free, dedicated bus service.
It is hoped the new partnership will enable more students from the Furness peninsula to access specialist courses within the land-based sector, who perhaps previously felt full time study so far from home was too much of an obstacle.
The courses, which will be offered from September, 2020, are the City & Guilds Level 2 Technical Certificate in Animal Care and Equine Studies and Horse Care at Level 2, for anyone interested in equestrian careers. There is the chance for progression onto a Level 3 qualification and beyond to higher education for successful and dedicated learners.
To find out more about the study programmes, CLICK HERE 
You can apply HERE
Announcing the new partnership, Furness College Principal and Chief Executive, Andrew Wren, said: "We know that there are young people across Cumbria who want to continue the county's rich tradition of agricultural expertise and animal care.
"Through this new partnership they will get the best of both worlds, a qualification from one of the best regarded land-based colleges with the convenience of studying in Barrow."
Furness College science tutor Jenny Holden-Wilde, who will be teaching the programme, has a background in zoology and ecology. Alongside running her own small-holding, she has worked on international animal research projects and has previously worked as a zoo keeper and in conservation project management and wildlife monitoring.
Jenny said: ''These qualifications are perfect for young people who want to pursue a career in the wide-ranging animal sector. They will learn about animal health and welfare, behaviour, genetics and conservation.
"It can lead into careers in animal rehabilitation, behaviour, nutrition, zoo-based careers, pet grooming, animal trainer, animal charities sector, boarding kennels and cattery management. There are many careers with animals that people often don't think of.
"The other benefit is that once they have gained a Level 3 qualification, students can also progress directly into Myerscough's foundation degree in veterinary nursing or degrees including zoology, animal behaviour and welfare as well as equine science and management."
Jenny adds that alongside animal care they were also looking at future partnerships in countryside and agriculture courses: "The facilities at Myerscough are first class and the animals are kept in spotless conditions. That's why we have chosen them to partner with. You won't find better anywhere else in the UK.
"Alongside the more usual domestic pets and farm livestock species, they have everything from reptiles to an aquarium to a dedicated rodent room. They even have a dog rehabilitation hydrotherapy pool."
Myerscough Vice Principal and Deputy Chief Executive, Steven Downham-Clarke, said the College was excited to be partnering with Furness College and welcomed the opportunity to deliver a new curriculum to students in South Cumbria: "In recent years we have invested heavily in state-of-the-art facilities, including a £3 million Animal Studies Centre, tripling the size of the former building, in addition to a sector-leading, custom built, Veterinary Nursing Centre, both at our main Preston campus.
"Britain is well regarded as a nation of animal lovers, resulting in the development of a multi-million pound industry in the UK, and countless career opportunities. We look forward to the first cohort of learners beginning their study programmes.''
by Dave Salmon
DSalmon@myerscough.ac.uk