Cody blossoms thanks to scholarship
Published

Friday 9 Aug 2019
A Myerscough College horticulture apprentice has had a busy few months after being awarded a scholarship to continue in his chosen career path.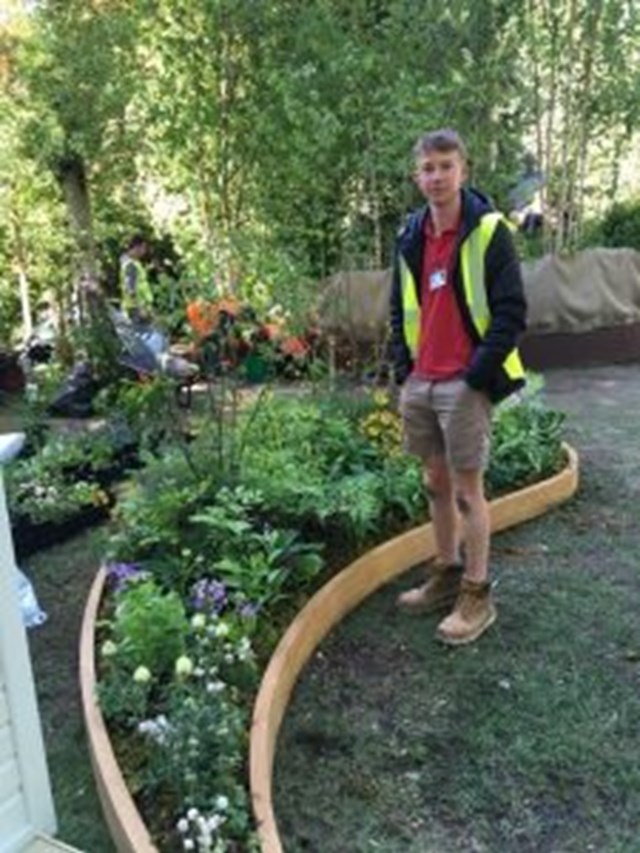 Cody Smith won a Student Scholarship of £1,000 while completing a worked based apprenticeship – Level 2 Diploma in Work based Horticulture at Myerscough College, while working at Abi and Toms Garden Plants. The money was awarded by the David Colegrave Foundation, a charity who support the development of the ornamental horticultural industry in the UK by offering scholarships to those who are set on a career in the profession.
Cody shares what he's been up to since receiving the scholarship:
"This year has already been a busy one for me and I had the fantastic opportunity to help plant up a small garden at Chelsea flower show with Abi and Toms garden plants, which has always been something I have longed to do and hopefully many more to come, in the future when I have more experience I would love to create a show garden of my own, just seeing the logistics of how Chelsea Flower Show is created in such a short space of time is truly inspiring.
''I have also been busy helping people around the area I live re design their gardens and coming up with various planting schemes. I have bought an iPad which has been extremely useful showing for showing plants and designs to my clients; this has been perfect practice for me when I hopefully start to come up with designs for gardens at shows in years to come.
''I am currently a year and a half in to my apprenticeship with Myerscough College and Abi and Toms Garden Plants and it is absolutely fantastic. There has been a lot to do over the past few months preparing all plant material for sale-able size plants. At the nursery we grow a large range of perennial plants and trees and a large percentage of our plants are grow on site ether by seed or cuttings. Whilst I have been at Abi and Toms I have also introduced new propagation methods to them, which is taking cuttings into sharp sand; this has a huge advantage to compost as it does not get very wet but still stays damp enough for the cuttings to root without rotting them.
''I have always been fascinated by latin names and meanings (even though the latin can be very hard to spell for a dyslexic person) but with the help of from everybody at the nursery I have been able to gain a huge knowledge of many plants and their latin terms. My two year apprenticeship will come to an end in January but I hope to stay at Abi and toms to further my knowledge and experience in a horticulture and gain better knowledge and experience with garden design with Tom.
''My next busy months will be between June and November where in my spare time I will plant out my own dahlia cuttings of over 300 dahlias and up to 40 different varieties. I have grown them for over 6 years now and have entered many different shows like Malvern, Southport and Harrogate Flower Shows and won prizes for my exhibits, unfortunately this will be my last year growing dahlias as I want to focus more on garden design, but now having the knowledge and passion for dahlia growing it is something I will definitely come back to.
''I am very fortunate to have a 20ft pollytunnel in the garden at home and currently have all kinds of propagation and cuttings I have taken to produce more plants for my parent's garden at home. I can now store information about the plants I need or grow on my ipad and I can also take photos of my gardens and use them in the future.
''If anyone is considering applying for the David Colgrave foundation scholarship bursary, I highly recommend they do as this has been an absolute fantastic opportunity for me."
The David Colegrave Foundation (DCF) is a registered charity supporting the development of students studying horticulture in the UK. It champion careers in commercial, production or retail ornamental horticulture by offering scholarships to these future horticulturists.
David Colegrave was one of Britain's leading seedsmen, founding the UK's largest ornamental seed company, Colegrave Seeds (now Ball Colegrave). During his career, Colegrave took a keen interest in supporting and promoting the development of young people, and it was with this in mind that the Foundation was launched shortly after his death.
The David Colegrave Foundation is administered by the Horticultural Trades Association.
More information on DCF can be found at www.davidcolegravefoundation.org.uk 
by Dave Salmon
DSalmon@myerscough.ac.uk