Campus development continues as FFIT centre build begins
Published

Monday 7 Mar 2016
Work is underway on a state-of-the-art centre on Myerscough's Lodge Farm.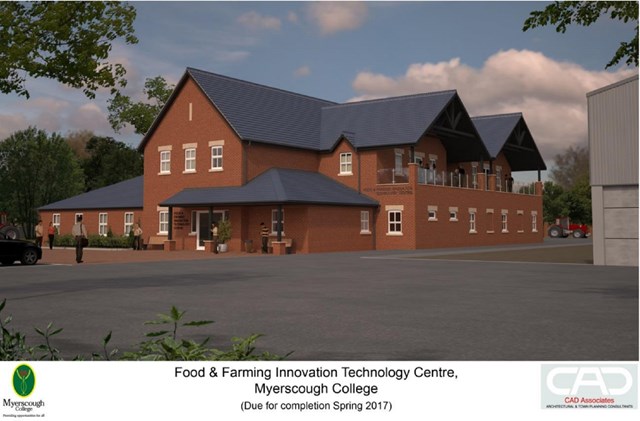 The FFIT (Food & Farming Innovation & Technology) Centre will be a sector leading centre of excellence for industry training. This major flagship build for agriculture and associated courses should be completed for the start of the academic year in September, 2017. The project is supported by the Lancashire Economic Partnership (LEP), who will make a financial contribution towards the delivery of the build.
Once complete the centre will be a two storey building and will incorporate specialist teaching as well as demonstration and research facilities including a teaching laboratory, soil laboratory, instrumentation room, production development kitchen, as well as a conference room, general teaching rooms, offices, a dining area and changing facilities.
The ambitious project also sees the building of a Livestock Innovation Centre, which will provide new livestock production facilities with embedded technology to promote precision farming practices. There'll also be additional silos and associated stores as well as alterations to existing buildings, and a field trial area utilising farm land immediately adjacent to the site.
John Wherry, Deputy Principal Resources at Myerscough College, said: ''The project will enable the College to make a significant contribution towards the realisation of Lancashire LEP's Strategic Economic Plan.
''Myerscough already has a significant network of local businesses including more than 6,000 farmers, 80 small food producers who are members of college managed Made in Lancashire and around 1,200 employers who the college interacts and delivers training to in any given year.
''The project will ultimately result in the creation of a centre of excellence to lead the development and adoption of precision farming techniques within the livestock and grassland sectors. The facility will also provide resources to support the development of local food products. As the project will be delivered on the College's existing Lodge Farm site it will therefore be integrated into existing farming activities and directly support curriculum delivery on the farm.''
Work is now underway on the first stage - the Livestock Innovation Centre - which will be located behind the current farm buildings on site.
Meanwhile, further campus developments are also well under way at Myerscough's main Bilsborrow campus as well as at other centres. The College's new sports hall – which will be called the Myerscough Sport High Performance Centre - is due for completion at the beginning of May. The centre will house basketball, volleyball, netball and badminton courts as well as additional strength and conditioning facilities.
Work is also due to get underway shortly on new student accommodation, while at the College's Merseyside campus at Croxteth Park, an expression of interest has been submitted to Liverpool City region's LEP for financial support to create a new Animal and Equine Centre. Outline planning approval has already been granted and Myerscough will now progress to a detailed application by April. If successful, this project would have a target completion date for the new academic year in 2017.
These projects will complete Myerscough's current capital plan. Work will then begin this summer to identify potential projects for the 2017-2022 capital plan and to assess their contribution to teaching and learning, the wider student experience and value for money.
Share this article
by Dave Salmon
DSalmon@myerscough.ac.uk
Back to news