Bursary award helps horticulture apprentice to grow skills
Published

Tuesday 28 Mar 2017
A Myerscough College horticulture apprentice will be able to further grow his skills after being awarded a bursary to help him during his course.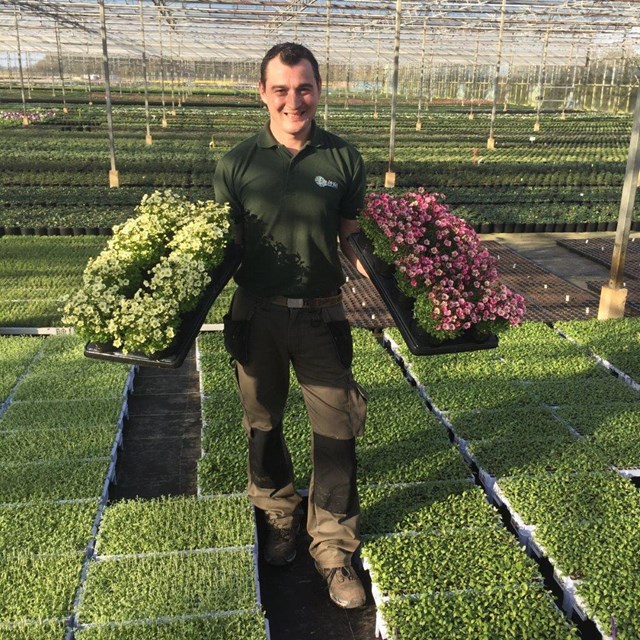 Gabor Lukoviczki has won a David Colegrave Foundation (DCF) Sponsored Scholarship, receiving a thousand pounds thanks to the British Protected Ornamentals Association (BPOA) - Peter Seabrook Bursary.
While completing his Level 2 Apprenticeship in Production Horticulture, Gabor, from Preston, is also working as a grower at Lovania Nurseries. Following his current apprenticeship, he hopes to go on to complete a Level 3 course and aims to become a grower manager in the future.
Gabor said: "Thank you so much for the awarding me the bursary! My training is really important to me as it is helping me become a better grower and opening up opportunities for further development.
''I am really pleased to have been selected for the bursary and recommend other keen horticulturists to apply for a scholarship with the David Colegrave Foundation in the future."
The BPOA - Peter Seabrook Bursary supports students with a passion for commercial horticulture. The BPOA is a trade association for the producers of ornamental pot and bedding plants, and Peter Seabrook is a DCF Trustee and well-known horticultural writer and broadcaster.
Peter Seabrook said: "Bedding plants have been the first nominated in the BBC Gardeners' World search for the plants of the past half century, so Gabor is right in the spotlight and just the kind of young person our industry needs. I wish him every success."   
Simon Davenport, Secretary to BPOA, said: "BPOA is pleased to congratulate Gabor on the receipt of the Peter Seabrook Bursary and wishes him every success with his developing career in horticulture. Once again, we are delighted to support Peter in his effort to encourage new entrants to our industry.
''We are also grateful for the work of the David Colegrave Foundation in administering the bursary. BPOA members value the contribution of young students and trainees in improving the quality and size of the available pool of talent for our business and want to continue to back that work."
The David Colegrave Foundation (DCF) is a registered charity supporting the development of students studying horticulture in the UK. It champion careers in commercial, production or retail ornamental horticulture by offering scholarships to these future horticulturists. To date, over £100,000 has been awarded.
David Colegrave was one of Britain's leading seedsmen, founding the UK's largest ornamental seed company, Colegrave Seeds (now Ball Colegrave). During his career, he took a keen interest in supporting and promoting the development of young people, and it was with this in mind that the Foundation was launched shortly after his death.
For more information on these scholarships visit www.davidcolegravefoundation.org.uk
by Dave Salmon
DSalmon@myerscough.ac.uk