Bumper weekend for Myerscough College Motorsport team
Published

Monday 7 Nov 2016
It was a busy weekend for Myerscough College's motorsport staff and students, as race and rally teams participated in a race and a rally, across two venues.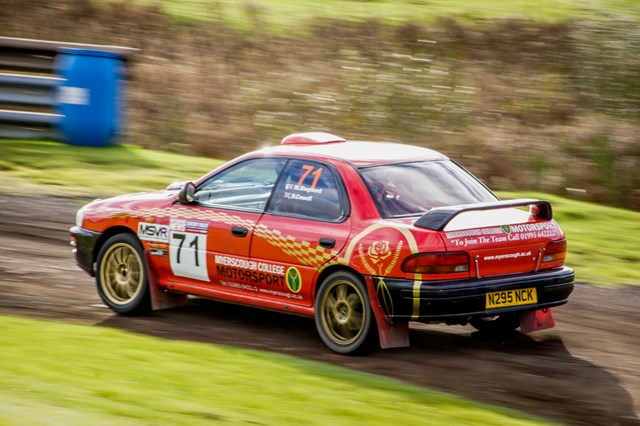 Eight competitors, six staff and twenty students were out across the venues, which included the Britcover supported race team, who had two days of testing and two days of competition at Silverstone's Walter Hayes Trophy; a huge event in the Formula Ford calendar with 112 competitiors.
Myerscough College motorsport customers, Jack Wolfenden and Josh Smith, both qualified third for their heats on Saturday, with students from the Foundation Degree and BSc in Motorsport busy with so much track action. But Sunday had them working flat-out the re-prepare Jack's car after an on-track racing incident. Although another incident put Josh out of action during the Grand Final, a super-human effort by the students meant Jack's car was ready for the B-Final. Starting from the pit lane, he rewarded the team by scything through the field to take an excellent second place.
Meanwhile at the Neil Howard Stages Rally at Oulton Park, John Richardson & Eric Wilcockson, were in the College's Ford Escort as they went round an incredibly slippery circuit, at which the infield was used to increase the challenge. The car, prepared and run by a team of students on Further Education BTEC Level 2 & 3 Motorsport courses, came home in the top 30 from a field of ninety after a trouble-free run.
Running alongside the commercial hire were tutors Danny Cowell and Simon Moss, co-driven by Mark Shepherd and Jason McTear respectively. They were driving the College's Subaru Impreza and SEAT Ibiza prepared and run by a mix of Further and Higher Education students.
Danny's group had early action after the first stage when they had just half an hour to diagnose and repair a burst brake pipe. Simon's HE students were also kept busy, monitoring a worsening front brake problem and a steering issue.
All three cars completed the event as the Subaru joined the Escort in the top thirty and the DMACK Tyres-supported SEAT completed a 100% record at the first round of this circuit-based rally series.
Head of Motorsport Belinda Oldham attended the event and said: "I am so proud of the whole team at both events.
''Students, staff, drivers and co-drivers all did a fantastic job in what was probably the toughest challenge we have faced. The fact that we had no retirements through mechanical issues is a testament to student's quality of work and attention to detail.
"The race season may be over for the year, but the rally team won't have a break for a while. They will be preparing the Ibiza and Escort for the next round (of the NH Stages) at Cadwell Park in just two weeks' time."
Share this article
by Dave Salmon
DSalmon@myerscough.ac.uk
Back to news