Brighter future for young people of Salford thanks to Myerscough traineeships
Published

Tuesday 13 Feb 2018
A Myerscough College traineeship programme designed to give young people in Salford improved job prospects has seen its latest successes.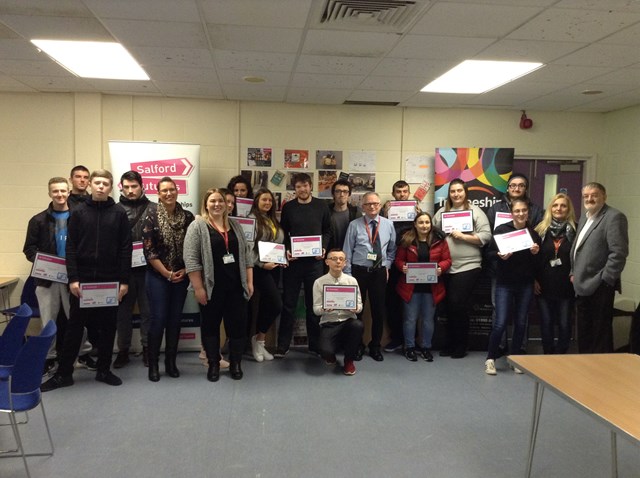 Myerscough has been providing support to unemployed Salford residents, giving them employability skills that support young people and adults into career progression. The aim of traineeships is to give people aged 16-24 access to quality work experience and relevant training to ensure people have the necessary skills and experience required by employers for jobs and apprenticeships.
Recently the latest group to complete their programme were presented with certificates of attendance.
All learners achieved their functional skills and employability awards and with over 97% attendance across the programme. Among the successes of the group was Siobhan O'Hanlon, who gave a presentation of her traineeship journey, which covered her new found confidence skills.
Work-based tutor, Dave Parkinson said: "Siobhan is like lots of students when they start their traineeship, however she has now developed the skills to communicate with others and ask questions. This is something Siobhan wouldn't have done when she started the programme last September.'' Siobhan now has an interview for a local children's nursery.
Councillor Lisa Stone and Councillor John Walsh attended the event to present certificates to all the learners and offer advice for the future to the learners. Councillor Walsh encouraged them all to get out of their comfort zones and keep improving their confidence, while Councillor Stone reiterated the importance of traineeships as a method of getting into apprenticeships.
Andrea Gardner, Business Development & Projects Manager at Myerscough College, said: ''Once again it is encouraging to see so many learners achieve and go into jobs immediately following completion of the programme.
''Three more learners have also signed up to apprenticeships with local providers. Traineeships are so important but to make them work we need employers to provide work placements and potentially apprenticeships afterwards.
''We would like to hear from as many employers as possible in the Salford area who can provide an opportunity for these learners." 
Traineeships are voluntary, however people undertaking a traineeship are entitled to receive help with the cost of travel both to and from training and any work experience placement and can also qualify for an allowance.
For more details of the range of traineeships & apprenticeships offered by Myerscough College, click here: http://www.myerscough.ac.uk/courses/apprenticeships/
Share this article
by Dave Salmon
DSalmon@myerscough.ac.uk
Back to news