Back to College for PGA Tour pro Chris Hanson
Published

Friday 18 Nov 2016
PGA Tour professional and former student, Chris Hanson, returned to Myerscough College this week to mentor the next generation of professional golfers.
Chris was back at Myerscough to give a guest lecture to students on a range of golfing matters including life on tour, tournament preparation, management, practice, statistics and the financial reality of how expensive being a tour player is and how much players really earn.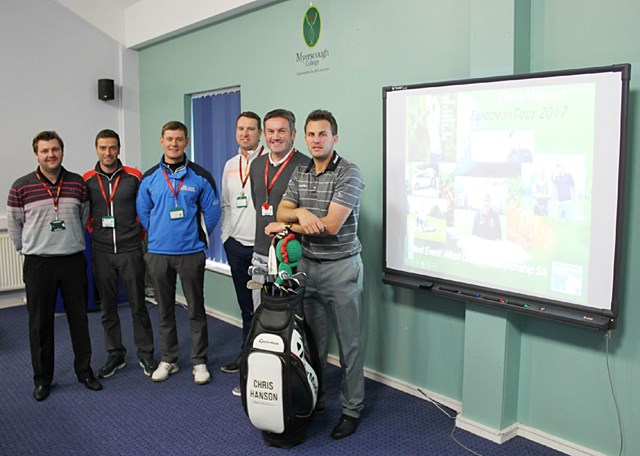 Head Academic Professional at Myerscough College, Craig Lea said the chance to learn from a former student who has gone on to great success, was an incredible opportunity for the students. He said: "Chris Hanson is an exceptional role model for all Myerscough College golf students. His success shows the students that with the right desire, attitude and work ethic, life as a European Tour player is achievable and a target well within their reach"
"As a Myerscough College graduate, Chris is living proof that the transition from student to European Tour professional is possible.''
''If our students want to make it to the top in this profession, Chris has shown them what is required, in terms of technical ability but perhaps more importantly, in the way he conducts his business and the professional attitude on and off the golf course.
"To be given mentoring from a European Tour player at the top of his game is an opportunity every young golfer would love to have at the start of their careers.''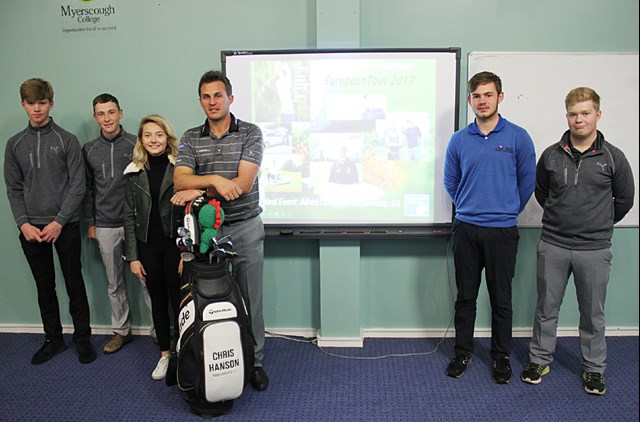 Chris turned professional after gaining a Level 3 Diploma and then Foundation Degree in Golf, both with Myerscough College. Chris now competes at tournaments on the PGA European Tour and PGA Challenge Tour.
In 2011 he won the PGA EuroPro Order of Merit, while he's also enjoyed top ten finishes in 2015 at Challenge Tour events in Madrid and Copenhagen and then onto the European Tour Qualifying School, gaining the last card for the 2016 Race to Dubai.
This year has produced some strong performances, including a 5th place European Tour finish in the Trophée Hassan II, at Rabat in Morocco, and 8th place at the KLM Dutch Open.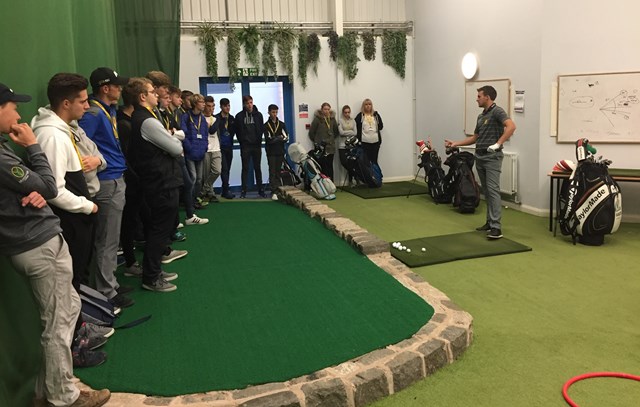 Speaking about his return to Myerscough College, Chris Hanson said:"It's been fantastic to come back to Myerscough College and spend time with such a talented bunch of young golfers. It doesn't seem long ago that I was in their shoes!"
"In professional golf the mental side of the game plays such an important role. If they want to progress after completing their studies, they need to learn both sides of the game and understand how important they are to each other.
"I hope I've given the students a taste of life as a professional golfer, and hopefully it won't be long until I see some of them at PGA tour events in the future. Hopefully it won't be long until I'm back with the students again.''
The photographs show Chris Hanson back at Myerscough College with current golf staff and students.
Share this article
by Dave Salmon
DSalmon@myerscough.ac.uk
Back to news