Apprentice Katie given national honour
Published

Thursday 24 Mar 2016
A Myerscough College apprentice has been recognised as among the best in the country for her work on a national level.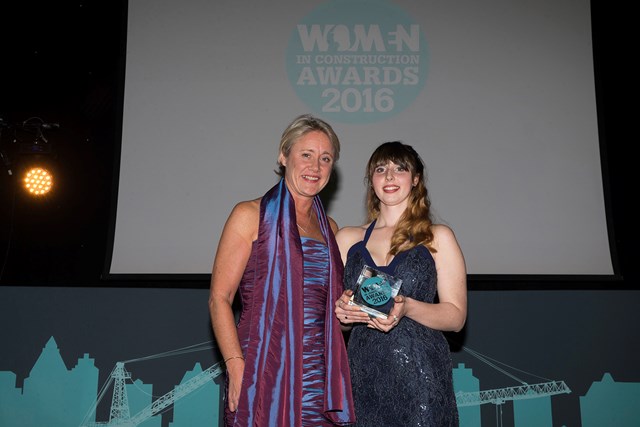 Construction Plant Apprentice Katie Long was honoured at the 2016 Women In Construction Awards, in a ceremony at The Palace Hotel in Manchester. Katie was named as Best Apprentice of the Year in the under 25s category.
20-year-old Katie works for UK Forks in Exeter, which is part of Vp Plc. 20-year-old Katie is studying for a three year apprenticeship delivered by Myerscough College in partnership with CITB.
The programme that Katie is on involves periods of block release training at the College's new £5.5m Engineering Centre at the main campus in Bilsborrow, near Preston. Katie is initially studying at Level 2 and then progress onto the Advanced Level 3 programme in the final year. Katie will complete her Apprenticeship in the summer of 2017.
Katie explains her reasons for choosing to apply for the apprenticeship as opposed to more traditional pathways: ''I completed a short engineering course whilst at school. For me the Apprenticeship is a fantastic way to earn, learn and pave a career path within the industry.
''In the future after I qualify I would like to gain permanent employment and hopefully progress within the company. I would also like to look at higher education options and gain as much knowledge and experience as I can. I would recommend Apprenticeships to other young people as a fantastic way to enter the industry.''
Myerscough College Principal, Ann Turner said: "Becoming the first woman to become Principal of the college, I know how tough it can be to succeed in traditionally male dominated sectors.
''The achievements of Katie and our other female apprentices should be celebrated and I'm sure they'll go onto fantastic careers within their chosen fields. Myerscough College is proud of its reputation as a leading provider of training for the land based and specialist industries. I wish Katie every success for the future.''
Share this article
by Dave Salmon
DSalmon@myerscough.ac.uk
Back to news