Another season to remember for Myerscough football
Published

Thursday 25 May 2017
Myerscough College's football provision certainly had plenty to shout about this season, with major successes for staff both current and former students, as well as staff.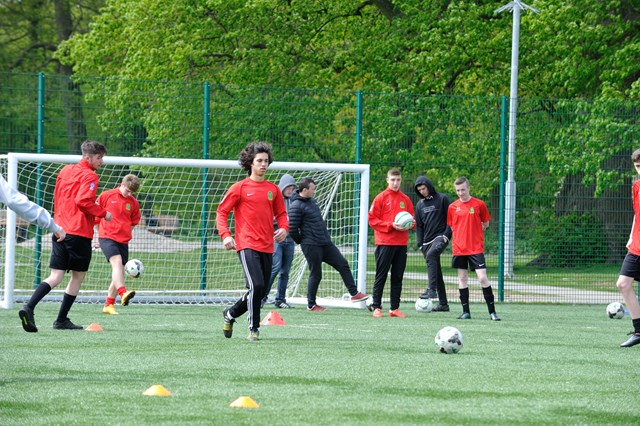 It was a season to remember for in non-league football for Lancaster City, managed by Myerscough's Head of Football, Phil Brown, and assisted by lecturer, Dave McCann, and fellow lecturer, player-coach, Rob Henry.
The Lancaster team included a large number of current and former students, including 35-goal top scorer, Jordan Connerton, who scored a hat-trick in a 5-2 victory on the final day of the season to clinch the title and win promotion to the Northern Premier League, their highest level of football for a decade.
Senior lecturer Rob Henry has completed his Advanced Youth Coaching Award, a Level 4 qualification is on par with a UEFA 'A' Licence.
Rob, who as well as working at Myerscough College, is also a coach at the PNE Academy, where he has spent the last ten years working with the U14s, said: ''I started the course September 2015, which took place at St Georges Park over nine months, predominantly made up of full time staff at professional clubs.
''This was followed by a 12 month period of observations and I completed the course by producing four individual case studies for the development of individuals where I had to analyse an area of weakness, produce coaching interventions in place for them to develop and then review and present my findings.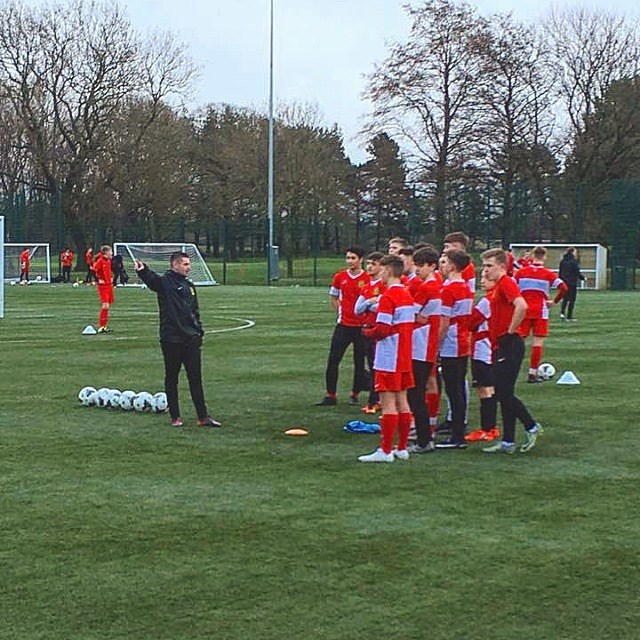 ''The course links very well to the provision at Myerscough at both FE and HE level as it allows me to share my knowledge regarding holistic player development in conjunction with the FA four corner model and FE models such as sports' coaching and talent identification.
''I can also educate our HE students in regards to analysing performers and producing individual interventions for players in a group scenario and within enrichment, applying intricate coaching skills in the practical coaching setting, to develop and improve the student's performance levels.''
Meanwhile 2016/17 has seen a flourishing partnership between Myerscough College and Preston North End, aimed at giving young footballers a second chance at making it in the professional game.
The partnership has involved Myerscough providing talented footballers with the opportunity to join Preston North End's newly formed Youth Development Squad (YDS). The programme runs in partnership with PNE and provides players who have just missed out on securing a youth apprenticeship deal with a professional club the opportunity to develop their game within a professional football environment.
The programme contains a mix of practical football based activity with educational lessons. Coaches from Preston North End have joined forces with Myerscough College tutors to deliver a high quality football development programme, where, on the field, the team play under the banner of PNE (Myerscough), and compete in the U19 National League, playing against other high profile Academy sides.
Players are enrolled into either a one-year Level 2 or a two-year long Level 3 BTEC educational course in Football Studies, with programme delivery designed to compliment the playing element of the programme and also gives opportunities to study for a further two years after that at higher education level.
Speaking about the partnership, Phil Brown said: ''The programme is based at our main Bilsborrow campus, where we've built a reputation over many years for our excellence in delivering courses that combine sport and education.
''We're committed to providing the best opportunities for young people to develop their game alongside gaining an industry recognised qualification that will open many career paths other than the playing side.''
The partnership has already seen success, with two students establishing themselves as regulars in PNE's U18 Academy side, which made it to the quarter finals of the FA Youth Cup. The Myerscough YDS side had a very creditable first season, finishing third in their division, level on points with the runners-up.
In the professional game, former student Josh Kay made his full first team debut for Barnsley in the Championship, while another Myerscough football alumnus, Rochdale's Joe Bunney, was named Most Improved Young Player of the Year at their end of season awards.
There has also been more playing recognition for Myerscough students, as the College's BUCS (British Universities & Colleges) League side enjoyed a successful first season of competition.
Phil Brown adds: ''Myerscough College's Football Academy has a proven track record of developing students at both further and higher education level who go onto forge successful careers not only in the playing side of the game, but also via a variety of exit routes including coaching, fitness, nutrition and sports' science.
Click here for more information on the range of football study programmes available at Myerscough College: http://www.myerscough.ac.uk/courses/football/
Share this article
by Dave Salmon
DSalmon@myerscough.ac.uk
Back to news