Algarve warm weather camp for Myerscough golfers
Published

Monday 9 Jan 2017
A select group of Myerscough College golf students are beginning their preparation for the 2017 season at a warm weather training camp in Portugal over the next couple of weeks.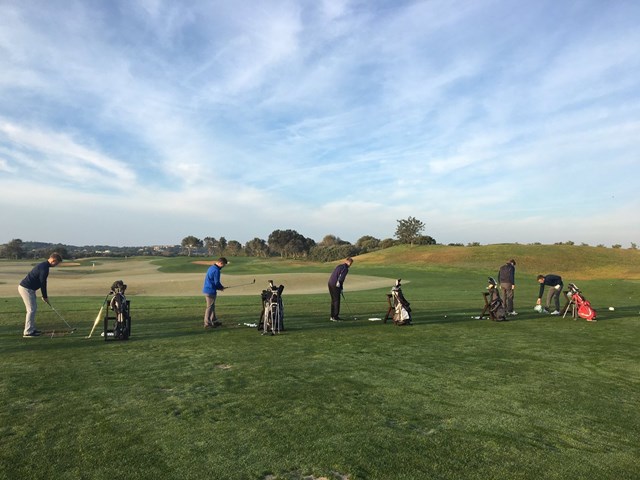 The 36-strong party have headed to the excellent facilities at the Vilamoura Resort for some intense training. The development camp plays a large part in the College's winter provision, in preparation for a hectic year of competition both at home and abroad.
The travelling squad will have access to world class training facilities and expert advice from a quality support team, including Performance Director, Rick Daniels and Technical Coach, Craig Lea. The travelling squad will have access to world class training facilities at the renowned Oceanico Golf venues including the 'Old Course' and the 'Victoria Course', host venue for the PGA European Tour 'Portuguese Masters'.
The itinerary will also provide an opportunity for agreeing playing and training schedules for the coming season along with goal setting and identification of individual targets focusing on the major events in the students' calendars for 2017 season.
Myerscough College Performance Director, Rick Daniels, said: "The warm weather training camp will provide the students with an excellent opportunity to continue their training and preparation at first class facilities prior to the start of the season."
"There will be a strong emphasis on the short game, as well as fitness, rules knowledge and psychological sessions during the week. We will also be setting targets for the coming season along with a planned schedule for each player."
The Algarve boasts more sunshine hours than California, making it one of the sunniest spots in Europe. The climate in the Algarve region of Portugal is mild, with little rainfall and plenty of sun throughout the year, making it an ideal year-round destination.
The current crop of Myerscough College golfers have three sides who compete in the British Universities & Colleges Sport Northern Leagues under the banner of UCLan, with teams playing in the BUCS Premier Division and Division 1A. The students also successfully play on the Collegiate & Prospects Golf Tours.
Share this article
by Dave Salmon
DSalmon@myerscough.ac.uk
Back to news