Ainscough opt for six of the best with Myerscough apprentices
Published

Monday 17 Oct 2016
One of the biggest crane hire and lifting companies in the UK is celebrating taking its latest batch of Myerscough College apprentices into its ranks.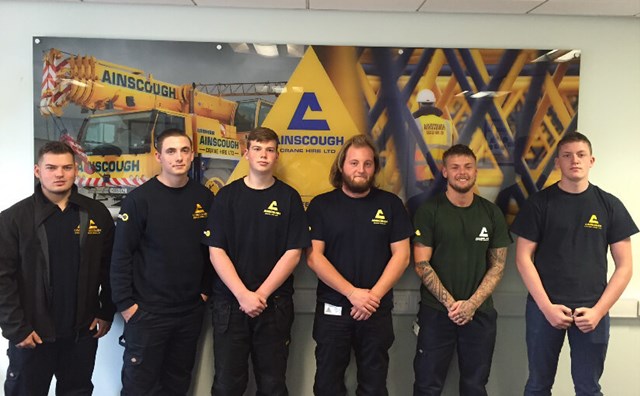 Ainscough Crane Hire has welcomed six new recruits to their operations, who will all undertake their work-based training through Myerscough.
The group of six apprentices are now beginning four years of study and hands-on experience which will test their suitability for the role with the target of moulding them into fully-fledged Ainscough engineers.
The six new apprentices are: Sam Flynn based at the Dundee Depot; Charlie Ferguson at Maidstone; Aiden Jones at Stanlow; Jack Kenworthy at Preston; Connor Dodgson at Stockton; and Kye Connop at Birmingham.
They are now nearing the end of a four-week residential course at Myerscough College in Preston from where they will go back to their host depot and work under the guidance of the depot team with the support of a designated mentor.
Graham Weights is Ainscough's Service Support Manager, and has recently been part of the team which has overseen the latest intake of apprentices to the company.
He said: ''We're investing in the future. Crane hire is a niche business and if we don't train our own engineers for the future, we simply won't have the talent available to us when we need it.
"At a recent count from 60 engineers, 25 had come through the Ainscough apprenticeship route which again demonstrates the importance of this talent stream for the business.
"We take a strategic approach to apprentice numbers these days factoring in the existing resource and its likely attrition rate over the four-year cycle. This means that we have a 90% retention rate of those apprentices which make the grade, the majority of whom do so.
''It is fair to say that we have been very impressed with the attitude and approach of this year's apprentices so far and we are very confident that they will grow with us over the coming months and years."
The current apprenticeship programme builds on the existing partnership between Myerscough College and Ainscough, which began in 2003, and has already seen many young apprentices go on to successful careers in the industry.
Ainscough Group Chairman, Martin Ainscough CBE, was awarded a Myerscough College fellowship in 2013 in recognition of his achievements in the Construction Plant Industry and charitable work.
Photograph (L-R) Aiden Jones, Charlie Ferguson, Jack Kenworthy, Kye Connop, Sam Flynn, Connor Dodgson.
by Dave Salmon
DSalmon@myerscough.ac.uk