Agriculture student tackles food security in Nigeria
Published

Thursday 12 Oct 2017
A Myerscough College agriculture student has set up an organisation to tackle the growing problem of food supply in Nigeria.
Food Security Nigeria is a not-for-profit organisation that aims to encourage people in Nigeria and across Africa to farm and feed themselves without having to rely on government help. Isheshe Jimawo, who is currently on Myerscough's BSc (Hons) Agricultural Crop Science study programme, set up the project last year with her husband to tackle the issue and conduct training and research into the problem.
One of the aims of Food Security Nigeria is to formulate simple plans that can be implemented by those most at need, to give Nigerian residents the tools to farm for themselves, feed themselves and provide an income to look after themselves and send their children to school.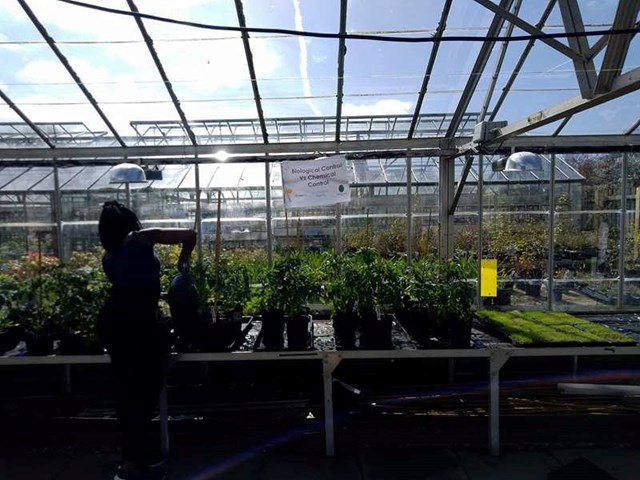 26-year-old Isheshe, who lives in Preston, says: ''I was born in the UK but my parents are Nigerian and I see myself of dual nationality. I first visited Nigeria when I was 12 and as much as I loved the visit, the people, the food and the culture, I also witnessed poverty amongst the riches, the beauty and the welcoming environment. Since then I have known that I have to be part of the change.
''Nigeria is one of a number of countries in Africa at risk of famine. This is shocking but if we can work together we can play a big role in promoting the benefits of agriculture.
'''People there are moving increasingly towards farming but lack experience and there is a need for education and training so people can successfully grow food rather than rely on other people to survive. Farming is a dirty job but I love the feel of the soil between my hands and the fact that I can grow something that a couple of months later becomes food is an amazing feeling.
''We want to offer training and support and we plan to have a half acre farm in Nigeria, where people can come and learn basic agricultural techniques, or we can come to them and show them what to do.
''We're also working hard on our research, especially investigating the difference between chemical and more natural biological pest controls when growing foods. Hopefully our research will be good enough to attract further funding to continue the work.''
Isheshe has already undertaken a demo trial to this end, using the modern glasshouses at Myerscough College to grow tomatoes using those different controls. Meanwhile earlier this summer Isheshe and her husband travelled to Nigeria as part of their plans to set up a local trial investigating the implications of traditional methods against alternative methods in the cultivation of tomatoes.
For more details about the project, go to https://foodsecuritynigeria.wordpress.com/,or you can also follow them by searching 'Food Security Nigeria' on Facebook.
Share this article
by Dave Salmon
DSalmon@myerscough.ac.uk 
Back to news