Agriculture's moo-vellous Christmas Calf Show
Published

Monday 9 Dec 2019
Agriculture students have staged their annual popular Christmas Calf Show.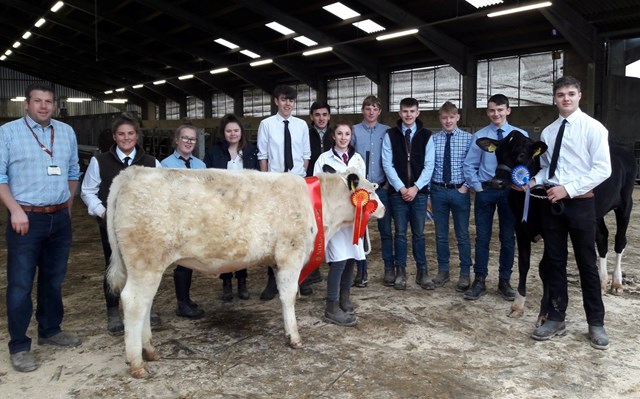 Organised by the College's Level 2 Agriculture students, the event involved the usual parade of dairy heifers and beef cross calves, which were prepared for the show judging, at Myerscough's Livestock Innovation Centre, part of the College's Lodge Farm.
Every year the students spend months planning and preparing for the event, with special guests invited along to take part and judge the animals and share their knowledge and industry experience, therefore contributing to the learning of the students.
The Christmas Calf show has become an annual fixture in the Myerscough calendar and the student's hard work and stockmanship shows how they have developed their skills and confidence in handling and showing the animals, as well as taking pride in both their own appearance and that of their animal.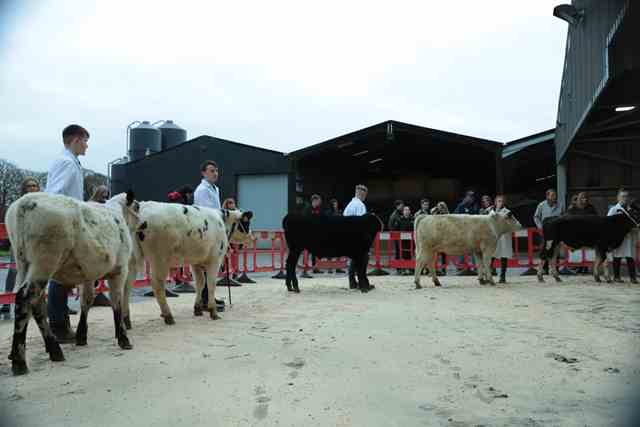 Photo: Chris Wolstenholme - Myerscough College Photography student
Craig Thompson, Head of Agriculture at Myerscough College, said: ''Congratulations and well done to all our Level 2 students and their tutor David Iveson for putting on an excellent Christmas Calf Show for parents, staff and students.
''It was excellent work in raising money for the Air Ambulance. Well done to Tia Standring and her British Blue calf for taking overall champion, with Alex Dearden and his Holstein Friesian heifer for runner up. Many thanks also to judges and sponsors of the classes and businesses that donated raffle prizes.''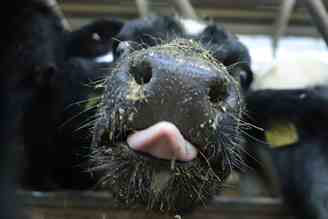 Photo: Chris Wolstenholme - Myerscough College Photography student
The full results were as follows:
Class 1 Best Beef Calf – Sponsor: Bernard & Barbara Rimmer,Barbern Polled Hereford
Judge: Hannah Ormerod
1st Tia Standring – British Blue x Steer - Contrary Mary                                               
2nd Kirk Davis – British Blue x Steer - Berry                                                             
3rd Henry Wood-Wareing – Aberdeen A x Steer - Moe
Class 2 Best Dairy Heifer Calf – Sponsor: Hesketh End Farm                                     
Judge: Henry Sanderson
1st Alex Dearden – Holstein Friesian Heifer - Maria                                                     
2nd Harvey Wilkinson – Holstein Friesian Heifer - Dilys                                               
3rd Grace Taylor– Holstein Friesian Heifer - Delia
Class 3 Best Turned-out Beef– Sponsor: R+B Nutter                                               
Judge: Ruari Martin
1st Kirk Davis – British Blue x Steer - Berry                                                               
2nd Henry Wood-Wareing – Aberdeen A x Steer - Moe                                                 
3rd Jayne Dodd – Simmental x Heifer - Penny
Class 4 Best Turned-out Dairy – Sponsor: Graceoversaes.Ltd                                   
Judge: Stephen Murphy
1st Alex Dearden – Holstein Friesian Heifer - Maria                                                     
2nd Harvey Wilkinson – Holstein Friesian Heifer - Dilys                                               
3rd Grace Taylor– Holstein Friesian Heifer - Delia
Class 5 Most Improved Handler – Sponsor: NWA Lancaster                                       
Judges: David Iveson and Gill Bowman 
1st Jayne Dodd – Simmental x Heifer - Penny                                                           
2nd Ethan McFaulds – Holstein Friesian Heifer - Avery                                                 
3rd Henry Wood-Wareing – Aberdeen A x Steer - Moe
Class 6 Best Beef Handler – Sponsor: Brock Auction Market                                     
Judge: Hannah Ormerod
1st Kirk Davis – British Blue x Steer - Berry                                                               
2nd Jayne Dodd – Simmental x Heifer - Penny                                                           
3rd Tia Standring – British Blue x Steer - Contrary Mary
Class 7 Best Dairy Handler - Sponsor: Dearden Land Drainage                               
Judge: Henry Sanderson
1st Grace Taylor– Holstein Friesian Heifer - Delia                                                       
2nd Harvey Wilkinson – Holstein Friesian Heifer - Dilys                                                 
3rd Ellie Smalley – Holstein Friesian Heifer - Gene
Class 8 Championship Calf - Sponsor: Horner Suffolks                                           
Judges: Hannah Ormerod and Henry Sanderson
Overall Champion: Tia Standring – British Blue x Steer - Contrary Mary           
Reserve Champion: Alex Dearden – Holstein Friesian Heifer - Maria   
by Dave Salmon
DSalmon@myerscough.ac.uk 
Back to news