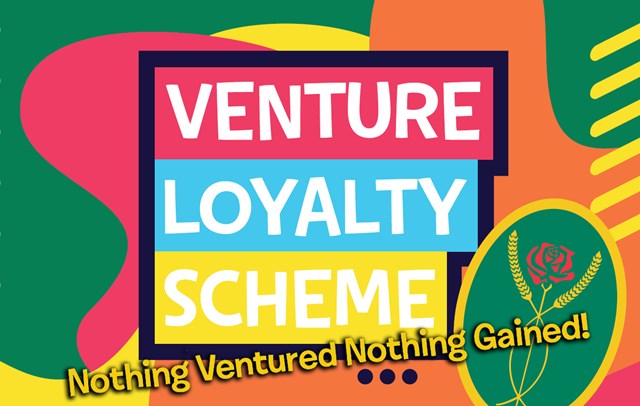 Sign up to our Ventures Loyalty Scheme card for free and enjoy various discounts and benefits across our Sports Centre, Gym, Cafes and much, much more!
Stumble Inn - Free function room hire
A large and stylish environment to accommodate your needs, The Stumble Inn is the ideal venue for wedding receptions, birthday parties, Christenings, corporate events etc. For more information and to make a booking please visit our Stumble Inn page.

Conference Facilities - 10% off room hire
Available when you book our Bowland or Rural Business Centre Function room. Perfect for meeting and private gatherings with full hospitality menus available. For more information visit our Conference Centre pages or ring us on 01995 642212.

Plant World - 10% off all plants, 10% off groups visits and tours and 10% off basket and container refills throughout the year.
Discount is given on production of your card at Plant World. For more information please visit our Plant World page or call us on 01995 642130.

Garden House Tea Rooms - 10% of your food bill
Applicable for up to 4 people. Discount is given on production of your card during payment. For more information please visit our Plant World page 

Sports Centre/Gym - 10% off gym membership at our Sports Centre
For more information please visit our Sports Centre page or call us on 01995 642200

Golf - Free Taster lessons plus 10% off your first individual session
A taster session training with PGA golf professional Clare Brown. Please get in contact through our Golf Complex page or call 01995 642200 to book on.

Equestrian Centre - International Arena Hire
For more information please visit our Equestrian Centre page or to make a booking please call 01995 642115
We also take bookings for corporate events in our Rural Business Centre and Food, Farming and Innovation Technology Centre - for more information call 01995 642222. Your loyalty card must be produced in order to redeem any of the offers above.

What is Ventures?
Hire of facilities - conference rooms, classrooms, sports hall, sports pitches, equine arena
Golf membership
Golf lessons - adult and junior
Gym membership
Children's parties
Retail outlets - Minimarket andMytrack
Catering outlets - Richmond's Restaurant, Garden House Tea Room, Equine Cafe, HE Cafe, Croxteth Cafe
Residential accommodation
Plant Centre
Stumble Inn function room
Equine liveries (Lodge and Gables)
Departmental income generating activities
Your Data
Myerscough College is committed to protecting the privacy of its customers in accordance with the General Data Protection Regulation (GDPR) and the Data Protection Act 2018.
The information we collect about you will be used solely for the purposes of administering the Loyalty Card scheme and will not be shared with any third party.
By signing up to the Loyalty Card scheme, you are consenting to Myerscough College contacting you to provide you with your Loyalty Card and to sharing information and offers relating to the Loyalty Card.