Lecturer in Veterinary Nursing, multiple roles - based at Preston campus

My career at Myerscough College – Inspiring Excellence
At our College, we are committed to creating an environment that fosters excellence and empowers students to succeed. We believe in providing them with the best possible platform to thrive academically and personally.
Our team is driven by a passion for education and a genuine desire to inspire and motivate our students. We strive to ignite their curiosity, fuel their aspirations, and unlock their full potential. We firmly believe that every student deserves an exceptional educational experience that prepares them for a successful future.
About the role
Myerscough School of Veterinary Nursing has been delivering inspirational teaching to student veterinary nurses since the 1970's, supporting countless exceptional, fully qualified Registered Veterinary Nurses (RVNs) into the profession; you may be one of these outstanding RVNs!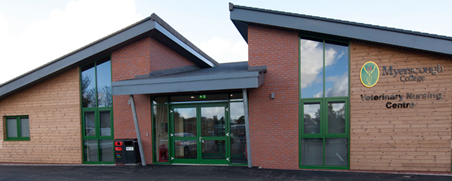 Our portfolio of qualifications expanded to include higher education provision from 1998 and since then we have continued to innovate, developing a range of professionally accredited post-registration qualifications for RVNs to continue their personal and professional development, such as the RCVS accredited Diploma Advanced Veterinary Nursing and more recently a suite of RCVS accredited Certificates in Advanced Veterinary Nursing. We are also committed to supporting the progression of RVNs from Foundation Degree by offering flexible part-time BSc (Hons) Veterinary Nursing top-up degree programmes.
Exponential growth of student numbers in the early 2010's due to our excellent student achievement and progression into employment resulted in considerable investment in the veterinary nursing department with the establishment of a multi-million-pound state-of-the-art Veterinary Nursing Centre in the heart of our beautiful campus. The facility comprises a number of well-equipped classrooms with interactive boards to support your creativity in lesson delivery, comfortable staff offices which enhance collaboration and innovation between colleagues, and a clinical facility with a significant number and range of high-quality resources to support the teaching of Day One and higher level / complex practical skills, including:
Operating theatre
Preparation room
Radiography room
2 consultation rooms
General ward
Medical / critical care ward
Cat ward
Dog ward
Food preparation room
If you would like to play your part and contribute directly to the creation of high-quality RVNs to support the future sustainability of our exciting and progressive profession, we would love to hear from you! We are looking for enthusiastic and motivated RVNs with industry experience to join our amazing, Grade 1, department as a Lecturer in Veterinary Nursing, where you will be fully supported in this next exciting step of your professional career. Please note for those of you who don't have a teaching qualification but are willing to undertake one, the College will support you through achieving this.
Why join us?
At Myerscough College and University Centre we have a nationally and internationally recognised Further Education, Higher Education, Adult Education and Apprenticeship provision. The Further Education provision is well established, the Higher Education provision has a well-recognised partnership with UCLan and the apprenticeship provision is operational nationally. We offer a rewarding and enjoyable working environment, where colleagues are inspired to make a positive difference to the educational experience and employability of our students. We are one of the top five largest land-based and sports colleges in the UK.
Visit our website https://bit.ly/CareersAtMyerscough for the full list of excellent benefits our college offers.
If we receive sufficient applications, we may close this vacancy early. 

Safeguarding our students is of paramount importance. Our recruitment process has been designed to keep students safe and to ensure that we appoint safe and suitable people.
All successful applicants will be required to undertake pre-employment background and safeguarding checks.
The successful applicant will be responsible for complying with all safeguarding policies and practices, and for ensuring student safety and wellbeing is at the forefront of everything they do.
This post is not exempt from the Rehabilitation of Offenders Act 1974.
We are an equal opportunity employer; we want all our candidates to have a fair and equal opportunity to secure employment with us. We encourage applications from all underrepresented groups: BAME applicants, disabled applicants, and LGBT+ applicants.
If you require any adjustments to the recruitment process, due to a disability, then please speak with a member of the People team.
As a disability confident employer, we commit to guaranteeing an interview for any disabled applicant who meets all of the essential criteria.
Hours

37 Hours Per Week, multiple roles

Department

Veterinary Nursing

Location

Myerscough College (Preston)

Salary

£23,318 - £31,536 per annum in accordance with qualifications and experience. Salary for those holding a teaching qualification will commence from a minimum of £24,467. in addition there will be a market forces supplement applied of £3500 per annum (subject to review)

Reference No

LVN-BP-179

Closing Date

Sunday 17 September 2023
Back to vacancies